Netflix's "On My Block" Shows Real Life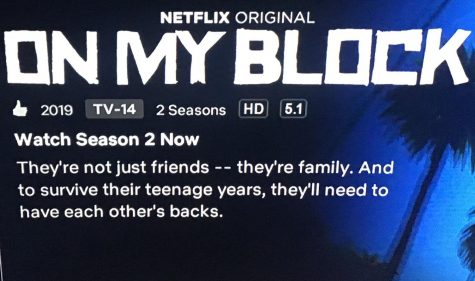 Hang on for a minute...we're trying to find some more stories you might like.
It is difficult to deny greatness when you see it, and Netflix's On My Block truly deserves the glory.
The two season, coming-of-age comedy first aired in March of 2018, immediately racking up views and establishing a dedicated fanbase. The show, directed and co-written by Lauren Iungerich, Eddie Gonzalez, and Jeremy Haft, became a hit for its practice of exploring young people of color who are subjected to a dangerous environment as they navigate their introduction to high school.
Season one introduces viewers to lively main characters. Best friends, Ruby Martinez (Jason Genao), Jamal Turner (Brett Gray), Monse Finnie (Sierra Capri), and Cesar Diaz (Diego Tinoco), have known each other since childhood. The bunch finds themselves facing daunting obstacles that are challenging to their friendship, specifically Cesar's familial ties with the local gang, The Santos.
In the midst of all the tension, a tale of treasure, speculated to be buried in the neighborhood as a result of a 1980s heist, is told, leading to one of the characters to chase after it.
Many nods are made to convey the life-threatening dangers the kids face every day in their South Central Los Angeles neighborhood, but their surroundings are not the initial focus of the show. The writers take deliberate time to develop the four characters individually, in pairs, and all together. Their speech is comedic in a way that comes off across as natural, even when frightful instances are occurring.
The second season, that aired exactly a year later, picks up post-traumatic event. A darker side of the characters is presented as they are forced to deal with the circumstances of their reality once affected by tragedy. Much of the innocence represented in the prior season is stripped away and replaced by tears and emotional burden as the characters struggle to grasp ahold of themselves and find where they fit in, both within and outside of the group.
On My Block serves as a guideline as to what television for young adults could be: real. The dramady is unpredictable, though, and at times can lack seriousness even in devastating scenes due to overacting. Yet, the uncertainty of what is to come next serves a positive purpose, leaving viewers wanting more at the end of each episode.
The show is well known for its end of the season cliffhangers, which have the tendency to be frustrating due to the fact that the wait time is a full year. The time away, though, is a is beneficial because the writers are given ample time to craft together an exciting story.
If there ever were a watch to recommend, it would be On My Block, a showcase of young adults of color in a manner that does not forget about their backgrounds, but also does not let it define them.