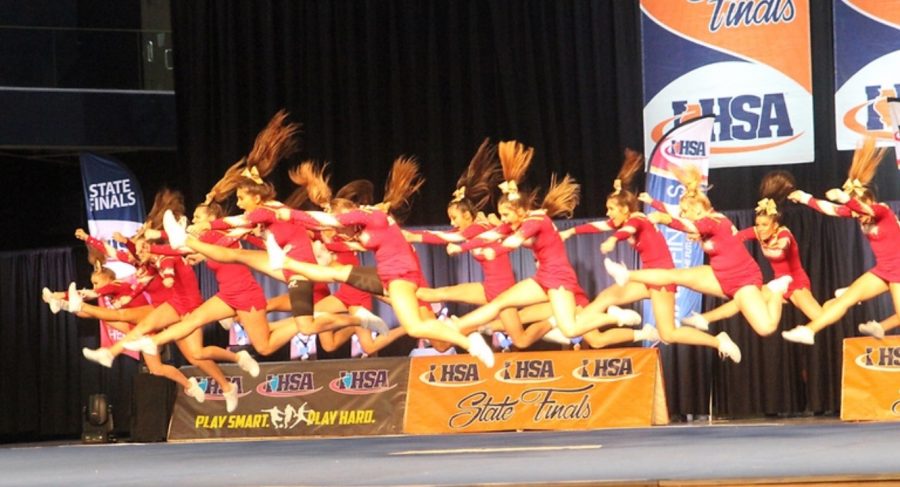 Loyola Academy
Loyola Academy's Varsity Cheer team's competition season kicks off this weekend on Sunday, Dec. 8 at Carl Sandburg High School. Coming off a state qualification, this season is sure to be a successful one.
Since the beginning of November, the team learned the foundation of their routine in two choreography sessions, explained head coach Michelle Denic. She continued to explain that the weeks following consisted of breaking down the routine into sections and cleaning it up. "This allowed us to concentrate on becoming more consistent in our skill level," Denic said. 
Additionally, the girls have adjusted their schedule to accommodate 6 A.M. practices, which the coaches have found to be very effective. "Starting the day off with a clear mind and well-rested body makes for a focused and productive practice," said Denic. 
With the foundation of the routine perfected, the team's plan is to get a baseline score where they can advance and tweak their routine for the next competition. "The first competition is always the scariest and the one to get all the mistakes out of the way, but I'm confident we will hit a clean routine that will give us a base to build off of for the rest of the season," said captain Lilli Awdisho. 
"My hope for this competition is for the team to hit a routine they can say they're proud of," said Denic. 
As the team qualified for the state competition last season for the first time since 2011, "they got a small taste of the next level and now know what they are fighting for," said Denic. She went on to say that the team is now better prepared and more comfortable with their skills. "Combine that with effort and attitude, I'm positive they can keep that momentum going," she added. 
"As long as we stay confident, we should be able to kick our season off well," said Awdisho. 
The team will take the mat at 5:30 P.M. at Carl Sandburg High School. Best of luck to the Ramblers!