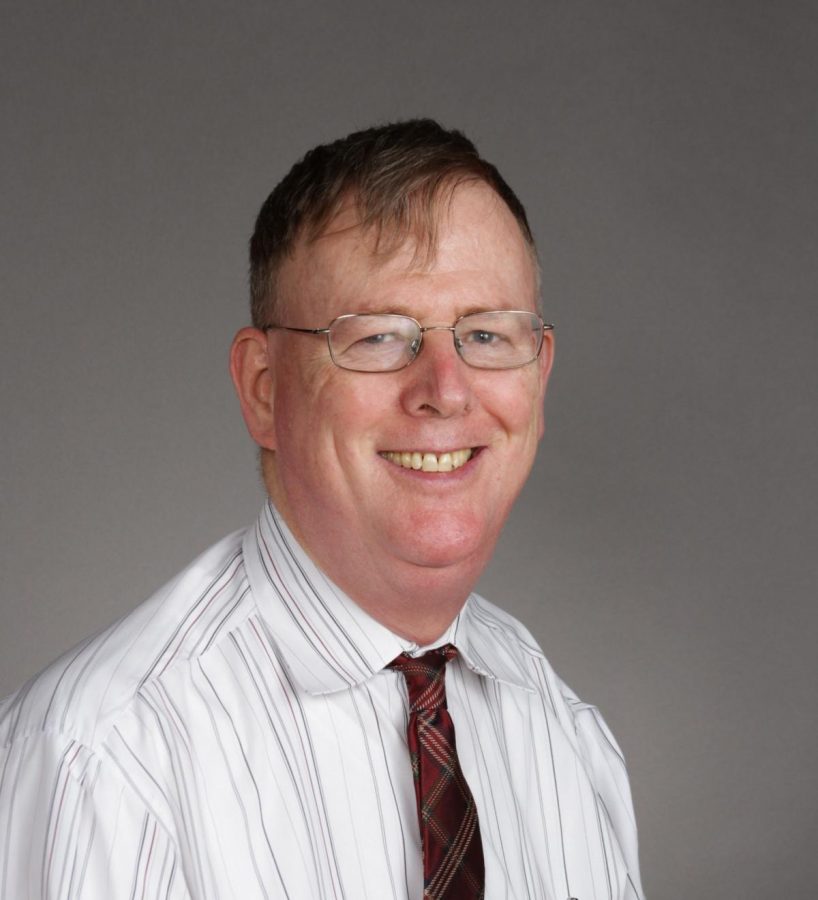 The Year
I think all of us in the Loyola community can agree that the news of the passing of science teacher Mr. Kevin Warnke came as a shock. It definitely did for me. When I received the email that contained the information, I was short of words, but full of emotion. Feelings of sadness, some of anger. But most of all, tears of joy, as I remembered what a remarkable man Mr. Warnke was, and what an even better life he lived.
To put it simply, Mr. Warnke really was a man for others, avidly dedicated to his job, his students, and his fellow faculty members. I interviewed Mr. Brian Padden, a fellow teacher in the science department at Loyola Academy, who was very close with Mr. Warnke, to get a sense of the wonderful life Mr. Warnke lived.
On June 8, 1959, Mr. Warnke was born to John Joseph and Joan (née Kent) Warnke, Jr. in the U.S. Army Hospital in Munchweiler, Germany. He grew up in New England and decided that he wanted to serve his country, the first of many jobs in his life.
He attended the Naval Academy, and went on to perform his duties in the Navy. He sailed around the world on standard protocol, eventually attaining the rank of captain.
When he felt he fulfilled this passion, he went back to college, and received his PhD in blood flow and mathematical modeling of the capillaries in matrices. He worked for several small companies before arriving at ABBOTT Laboratories, then working there until he found his passion for teaching.
He spent some time at Waukegan High School and then came to Loyola Academy, where he spent the last six years of his life teaching young men and women.
Mr. Padden said "he found his true meaning at Loyola. What I loved about him was that he had a view for the whole student."
Most of us remember Mr. Warnke for the kind of man he was, and his energetic, contagious spirit that he poured into each and every one of his students every day, whether in-person or on Zoom.
I interviewed some of my peers to gain an understanding of how they remember this role model.
Michael York, a fellow classmate in my 6th period Physics class with Mr. Warnke, remembers him for his smile. This smile meant so much to Michael, because he knew it was Mr. Warnke's way of showing him that he cared for him.
Molly Niego recalls how he dedicated all his effort into physics and his learners. "I loved how he always knew how to connect to us and make physics so interesting."
Mr. Warnke by far spent the most time at Loyola during the day, arriving as early as 6:30 some mornings, and staying until 5 p.m, every day. He was always tinkering, and never tiring, seeking better, funnier, cringier methods to demonstrate physics to his students.
And boy, I admit, he thought of some pretty unbelievable things.
And finally, Harry Yeboah looked up to Mr. Warnke for what seemed like his never-ending effort. "Mr. Warnke was the kind person who always tried to help a student out, even if he or she didn't need it."
It was this passion and dedication in and out of the classroom from Mr. Warnke that allowed his students to grow and succeed, well-prepared for life beyond Loyola.
Thank you so much, Mr. Warnke. The smile never left my face when I was writing this piece.