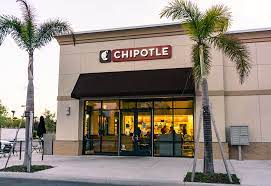 Wikimedia Commons
Sometimes there's more to a dining experience than the taste of the food. Sometimes there's something in the air that makes you feel at home. Imagine walking into a restaurant, and immediately being hit by an aroma of fresh ingredients. You are then aware of the same metal ridges lining the wall that you've seen many times before.
Within a few minutes you are handed the same brown bag with the same plastic fork inside. There is just something different that makes you feel at home while adding to your appetite. The place I have described to you is Chipotle Mexican Grill. Oh, and by the way their food is absolutely delicious.
Chipotle has been rapidly increasing in popularity over the last few years and is quickly becoming an industry king. Though they have created loyal customers out of people of all ages, Chipotle is finding extreme popularity with millennials and Gen- Z.
Chipotle's menu may not cater to everybody's food preferences, but there is one fact that is not up for debate. Chipotle offers the freshest products on the market.
What do a freezer, microwave, and can opener have in common? None of them can be found in any Chipotle restaurant. On top of that, diners get to watch chefs cook and slice their meat right in front of them as they order from the counter only 12 feet from the stovetop. In fact, Chipotle lives by their mission statement "food with integrity."
On the topic of the mission statement, CEO Brian Niccol adds "The things that make us unique, we're quadrupling down on that."
The two most common critiques about Chipotle are that it is too pricey, and it is not real Mexican food. The price is up to the consumer's opinion. Any time someone makes a purchase they decide that the good is worth the price they paid. Clearly, there is no shortage of people who are willing to pay more for a quality product from Chipotle instead of saving a few dollars on greasy fast food.
As far as Chipotle not being real Mexican food: of course it's not. But guess what, it does not matter. That's like saying The Shawshank Redemption wasn't that good because it wasn't very funny. It's completely irrelevant. All that matters is the one product that will not be defined by any category.
If you have the opportunity to make the trip to Chipotle it doesn't matter if you get a burrito, bowl, or tacos, but do yourself a favor and order the steak. Chipotle boasts some of the most flavorful mouth watering steak in the industry. When mixed with the great compliments of the delicious cilantro lime rice and any other topping you desire, something special happens. Every bite is just as good as the first one ever.
It's like being reborn every time you eat there. If you're a regular keep on rocking, but if you still have not been, take a hold of your life and follow the brightest star in the sky to your local Chipotle.