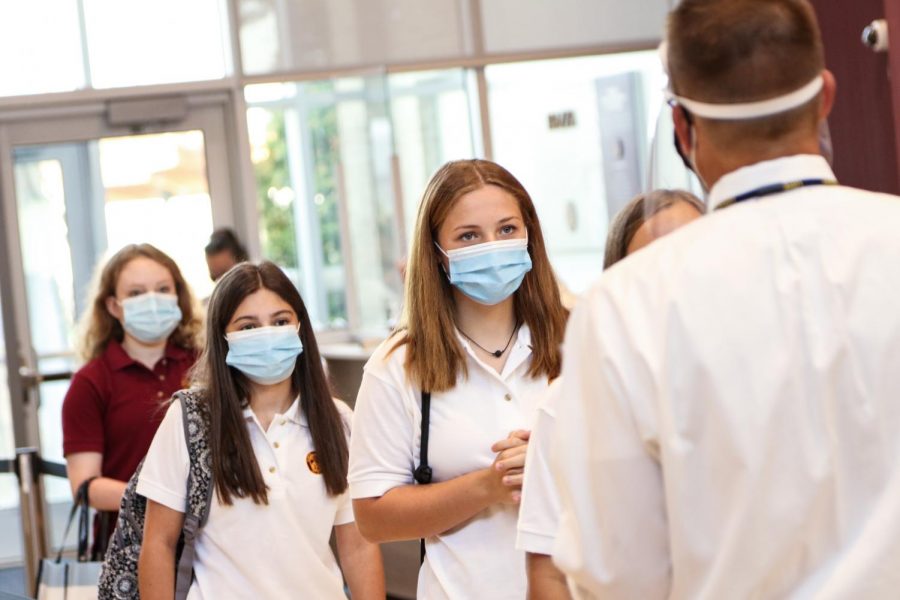 The Year
As repetitive as it sounds, this school year has been far from normal. Although as a community, there is gratitude for the school admin and nurses who have done everything in their power to keep us safe and healthy, there have been many, many changes. 
This year has been built around a hybrid schedule to limit the number of students in the school building at a time. At first it was 25% capacity, then it moved up to 50%, and remained like that for the entirety of the school year. 
If you were exposed to someone with coronavirus at school, contract tracing was done and you as well had to quarantine for two weeks. Masks were mandated at all times with the exception of lunch, and students were spread apart in classrooms. 
There were no large school gatherings in full capacity such as pep rallies, football games, homecoming dances, and more.
Aside from just the capacity and gatherings aspects, it is also safe to say that this has taken a toll on learning styles. Many kids work better in groups and partners, however since there was no desk grouping and the alphabet split, it was much harder to achieve such learning this year. And of course, learning and teaching from home is anything but ideal. 
As we move forward, gaining access to COVID-19 vaccines, the biggest question at hand is what the next school year will look like. As a soon to be Loyola Academy alumni, my wish is for the incoming seniors to have the perfect senior year with as little changes as possible. 
Current junior and incoming senior, Francesa Menconi, explains that she "hopes to be all in person next year so she can see everyone in her grade for her last year and come as close to normalcy as possible." Thankfully, this is the plan.  
Nurse Corry Braasch stated that as of right now, the Loyola Academy administration and COVID team have decided to put in all efforts to be in full capacity starting in the fall of 2021. She states that the key is "the more people that can get vaccinated, the more likely that plan will work."
This year, the school offered vaccines for one day, however, they were only being administered for those 16 and up. This leaves freshman and many sophomores left without a vaccine. Just recently, the FDA has authorized the Pfizer vaccine for ages 12 to 15. This means that every high schooler is eligible for such, and highly encouraged to receive the vaccine when available. 
When asked about mask mandates for next year, Nurse Braasch explained that "that is all dependent on the Illinois department for public health."
She would not be surprised if masks are still required for a school setting, however that might be different for high school levels if they can reach herd immunity in their community, with the rise in vaccine distributions. 
Lastly, Braasch mentioned that if you are fully vaccinated and exposed to someone with coronavirus in the school setting, you will not have to take part in a two week quarantine, unless you begin to develop symptoms. 
Full capacity for the upcoming school year is looking steady and bright. All thanks go to the COVID team, the administration, and the school nurses. Hopefully this plan will stay on track and be up and running when the time comes.