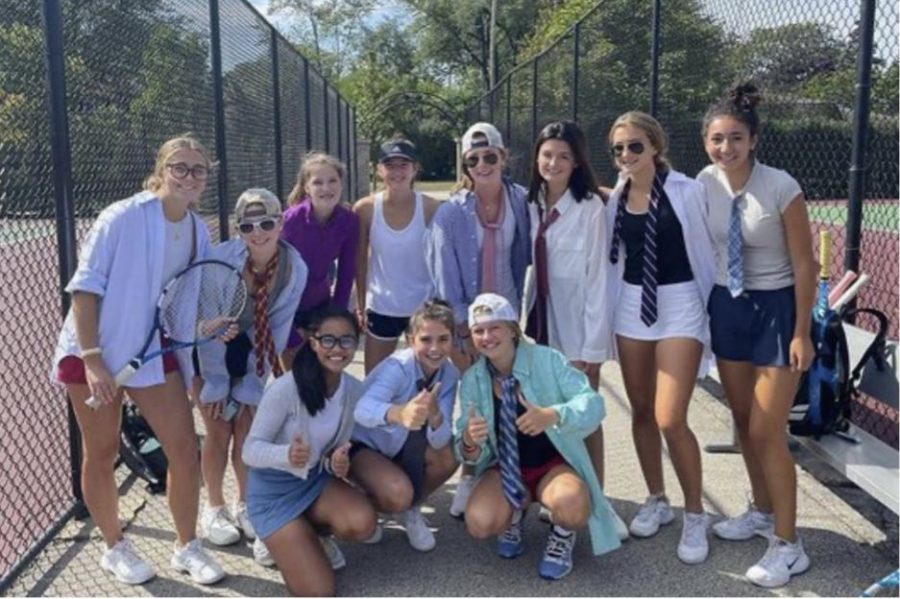 Tennis Instagram
Football may be seen as the official sport of Loyola Academy, or perhaps you prefer both killer boys and girls Lacrosse teams. Regardless of your preference, there is a little known sport from Loyola that is moving up the ranks.
Girls varsity tennis is headed to the GCAC this weekend. Enthused, Maeve Dooley, senior, reflects on her accomplished season and what made it great. "Right now we are 7-3-1. This season, we have had a lot of fun themed practices while also pushing ourselves to be the best players we can be."
The players have come up with many exciting themes for these practices, such as business casual and bikers versus surfers. Pretty gnarly, if you ask me.
In September, senior Tierney Purcell took third overall in singles at the Deerfield Tournament. This was a huge accomplishment for the varsity team.
Not only is their record amazing, but they recently took a big win against Fenwick. This win just added to their long list of victories.
On a separate note, the girls' senior night was this past week. "Senior night was super fun," Dooley adds, "I was so glad that my coaches were willing to put in the extra work to make it special." The night was filled with excitement as some girls celebrated their last tennis season for Loyola.
Similarly, the JV team, with newbie coach Beth Stanton at the helm, found itself at 9 wins and 4 losses. Their season has ended, but the bond runs thoroughly with this team of hard workers.
Coach Stanton said, "This year's JV tennis team was a great group of girls."
She loved coaching the girls and had only good things to say about them. "The girls made the most of the season by always bringing their A game to every match and practice," she added.
As stated before, tennis definitely does not get the recognition it deserves. Not only is it immensely entertaining, but it also represents Loyola in an incredible way. These players have the Rambler spirit coursing through their veins.
Next time you're at the top of the stands at a football game, take a second to glance over at the tennis courts to see these ferocious girls play their hearts out. They deserve it.