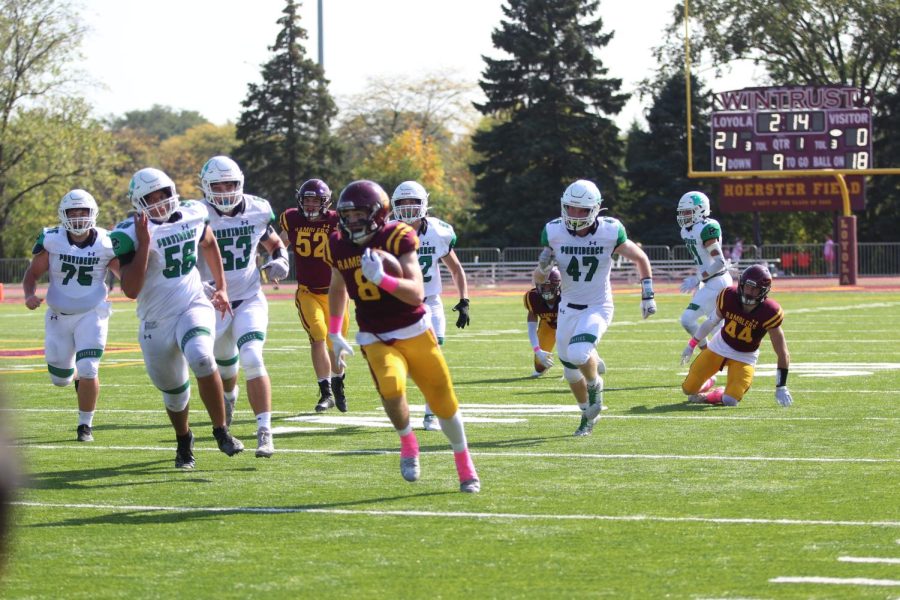 Krein
Saturday brought Senior Day to Wilmette as the Ramblers welcomed the Celtics of
Providence Catholic to Hoerster Field for the first time since 2018. The Ramblers were looking to keep their undefeated season intact as the Celtics tried to play spoiler to the Rambler's senior day.
The Rambler defense's dominance was on display from the very first possession forcing the Celtics to go three and out after receiving the first half kickoff. The Rambler offense then quickly responded with a touchdown of their own by way of Will Nimesheim.
After forcing another Celtic three and out the Ramblers added onto that lead quickly with a rushing touchdown by James Kreutz. The junior quarterback Jake Stearney then led the team down the field on the ensuing drive connecting with Nimesheim for a 44 yard touchdown to extend the lead to 21. That would be all for Sterney as he would be given a rest for the remainder of the game and Luke Collins would take over the play calling.
Luke Collins continued the Rambler offensive scoring barrage scoring on a 4th down and goal from the two yard line to make it a 28-0 game. The Ramblers found the endzone once more before halftime as Luke Collins connected to Danny Collins for a 11 yard touchdown pass for the fourth Rambler score of the afternoon. The Ramblers increased the lead by 5 more points by the end of the game, making the final score 40-0.
After the game Coach John Holecek said "It's nice on senior day to get everyone in and to make sure their parents see their hard work pay off. Even though not everyone plays, they're a huge part of our team either as scout or backup. Football is a special sport because of that."
Holecek was also asked about the second half performance by quarterback Luke Collins: "Luke is
a competitor. It's almost a shame he's a junior along with Jake. He's got talent and he's got
length. He likes the big moment. He can run; his stride is huge. We're not worried if he has much game play. He's a guy in practice who looks great."
Will Niemesheim was also interviewed after the game following his first career start saying, "I think it's awesome to play with the best competition you can have in the Chicago Catholic League. I know some of the juniors and seniors because I have older brothers. It's not the kids my age but I still consider them my brothers."
Niemesheim finished the game with two scores.
Following the win the Ramblers improve to 7-0 on the season. The game against Providence marked the last home regular season game of the year. Ramblers will face St. Pats next week at Triton College, and finish out their season with a game at Mount Carmel.