Oliver! Delivers an Evening of Fine Entertainment
Hang on for a minute...we're trying to find some more stories you might like.
Oliver! The musical that continues to have you memorizing "Consider Yourself," "Be Back Soon," and "Oom Pah Pah," was a big success at Loyola. Oliver was originally written by famous author Charles Dickens, who has also written favorites such as A Christmas Carol and Great Expectations.
During Act 1, we learn the show is about a boy named Oliver (freshman Casey Lyons) who lived at the workhouse managed by Mr. Bumble (sophomore Griffin Snow). Being almost starved to death, Oliver goes up for and asks for seconds. This does not go well with Bumble where he is prompted to sell him and yelled at by the Widow Corney (junior Nonie Sharp) to get a good price for him.
Oliver is then sold to the Sowerberrys (seniors Ellie Halleron and Jacob Andido) who have an unusual love of death. After fighting with Noah Claypole (junior Patrick Curran), Oliver runs away and runs into the Artful Dodger (junior Alexia Housakos).
Oliver is invited to go with Dodger to meet Fagin (junior Kameron Schuman) who houses a boarding school for young pickpockets. Fagin and the rest of the boys teach Oliver the basics of pickpocketing when we meet Nancy and Bet (senior Emma Samuelson and junior Catherine O'Connor). After the song, "I'd Do Anything" Fagin instructs the boys to go to work.
While Oliver and Dodger are in the crowd, Dodger picks the pocket of Mrs. Brownlow (junior Mary Fisher). Brownlow mistakes the thief for Oliver since Dodger runs away before being caught. Then Act 1 ends with Oliver being caught as the lights go down.
During Act 2, Bill Sikes (senior Kevin Conway) learns about Oliver and promptly tells the rest they need to get him back. When Nancy tells the Brownlows about how she can get him back, Bill finds out and kills her. Soon after, regretting what he did, he goes with Oliver to hang himself only to be shot later. After that, Oliver gets to live with the Brownlows with life finally right for him.
The play overall was very good. Despite it being a very common play, it is still a classic and an enjoyment to watch. The music was on point, clearly from being practiced a lot. The costumes were accurate to the time period – the orphans and Fagin's gang in their rags while the townsfolk had nicer skirts and dresses.
Since there was a larger cast than last year's musical, Little Women, there was more need for costume and mic changes. The lighting always fit the mood and the accents of all the actors rang out clear through the mics and into the audience. Given the budget for the fine arts department, the set was amazing involving a trap door and bunk beds.
Lots of work was put into this musical and all the actors and crew members did a fantastic job.
About the Contributors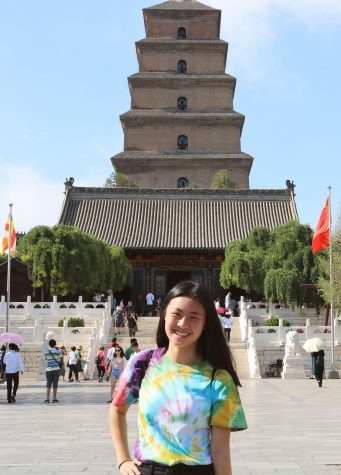 Lily Scott, Editorial Staff
I'm Lily Scott and a current junior. I am serving as a member of the Editorial Staff this year. As well as being in newspaper, I am head student photographer...