The Much Much How How—What Now?
Hang on for a minute...we're trying to find some more stories you might like.
You too may have been bewildered, enchanted, and made curious by Apple's Super Bowl ad, especially due to the peculiar music choice—and this was exactly the songwriter's goal.
The unlikely track is "Come Along," the top song of underground folk and indie artist Cosmo Sheldrake's first and most recent album, The Much Much How How and I. The album dropped in April of last year, and only recently is it gaining notoriety. Sheldrake only has about 400 thousand monthly Spotify listeners, which is relatively small. This may be due to the fact that his songs do not have much radio coverage—his sound is so unique, so refreshing, and so out of the ordinary, that many people are inclined to turn up their noses to it. I was, too. However, if his early EPs hadn't sealed my appreciation for him, The Much Much How How and I certainly did.
Sheldrake's music relies heavily on inspiration from the natural world around him. For The Much Much How How and I, he has incorporated recordings of his surrounding environment with his own voice to create not only a tone, but a texture of richness and density to his music.
"You're never capturing one thing," he says in an interview with PRS's M Magazine, "you're capturing a whole ecosystem or web of complex relationships, which for me they tell their own stories."
Sheldrake studied anthropology in university, and is fascinated by how people envision the natural world and by "the false myths behind how we can project our anthropocentric visions onto the natural world." He aims to write lyrics which celebrate nature and the myths humankind associates with it.
"Come Along," the album's most popular song, emulates this idea more than any song on the album. Lyrically, the song is an invitation, a plea for the listener to join Sheldrake in abandoning the fullness of everyday life and indulging in nature in all its wonders. The melody is enthralling and mesmerizing, though it does become repetitive after a while. The instrumentals and recorded background tracks, however, are a different story. Each layer is something new and different than what just came before it.
"Wriggle," the second most listened to track, follows this same theme of meatily textured instrumentals, except it is executed in such a wildly different manner. Instead of blending together into an uproarious jubilee like in "Come Along," the instrumentals in "Wriggle" build off one another, and it becomes nearly hypnotizing to experience. The vocal dynamics are so much lighter and airier in stark contrast to those in "Come Along." The variety of sound Sheldrake exhibits is refreshing at every track.
These two out of the fourteen tracks on The Much Much How How and I are popular for good reason, but the album itself is not without flaws. While yes, repetition is arguably a negative quality in terms of music, too much variety can harm one's album as well. Sheldrake's composing quirk is creating that ecosystem of music, but it seems as though that only applies within each individual song. The album's sound ranges vastly track by track, and there seems to be no gradual progression whatsoever. It would have been interesting to see Sheldrake build or blend the songs together in a manner in which they play off each other, but that isn't the case in The Much Much How How and I.
Regardless, The Much Much How How and I is a masterpiece of experimentation and is absolutely worth a listen through for any individual seeking to broaden their musical taste and experience something that has never been done before. Keep an eye out, as well! The deluxe edition of The Much Much How How and I lands this Friday, April 5th!
About the Writer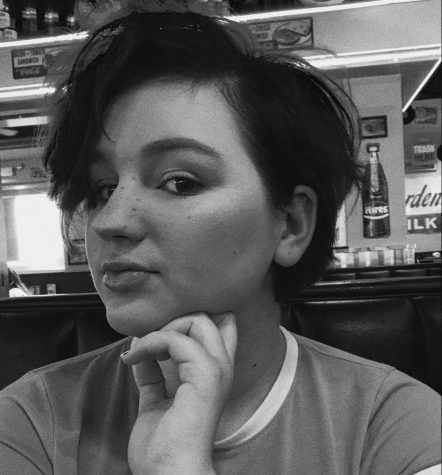 Sophia Dempsey, Writer
Hey! My name is Sophia, and I'm a junior! Besides writing for The Prep, I am an avid member of Loyola's classics club serving as co-president. I am...