Catchy Or Trashy? Country Or Not? Regardless, Old Town Road is #1 On iTunes' Top 100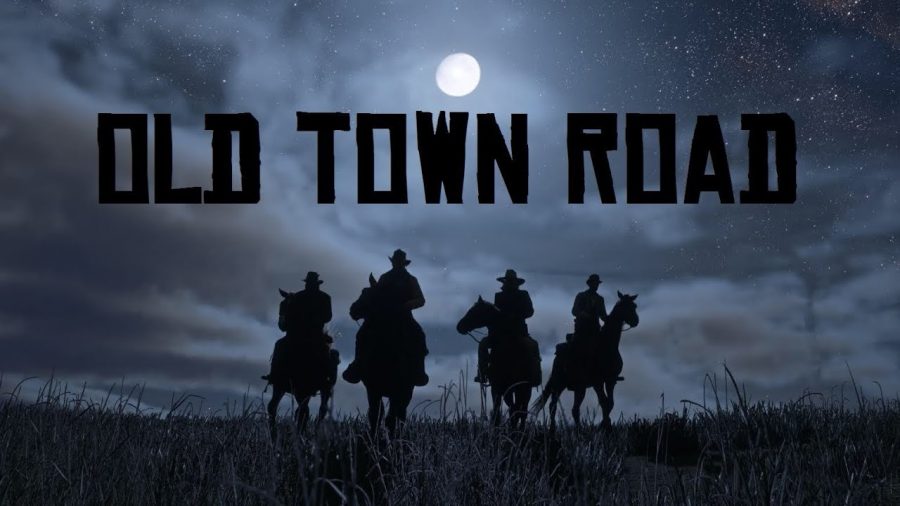 Andrew Shearson, Writer
May 13, 2019
"Yeahhhhhhhhhhhh I'm gonna…" I'll stop there. Needless to say, this song is crazy catchy. Breakout artist Lil Nas X's new tune is the top grossing song in the world as of the second week of May. The song is categorized as contemporary hip hop but also has a country feel to it. Billy Ray Cyrus's  presence is felt in the song with him showcasing a rumbling yet buttery vocal delivery. Even if this genre of music is not up your alley, this jam will have you nodding your head and tapping your feet to the beat.
This debut hit and viral smash is breaking records. You can call him lucky, but "Old Town Road" shattered the record for most streams in a week with 143 million. Keep in mind, the version with Billy Ray Cyrus was released only April 20. The song has grown 207% since last week's 46.6 million streams. This song is spreading immensely. For the next couple of weeks, maybe even months, when you check the iTunes top charts, don't be surprised to see Lil Nas X's name at the one spot.
This song has sparked much debate throughout the country. The song raises a very prevalent question that is "What defines country music?" "Old Town Road" was originally placed on Billboard's top country. Under scrutiny from the rest of the industry, Billboard yanked the jam from the country charts. The rejection resulted with new questions about race and culture for country music. The decision seemed to be easy for Billboard. Despite backlash, the company made a business decision cutting it considering the $10 billion country music industry in Nashville.
Last week, I ventured the halls of Loyola, asking peers if they enjoyed the new tune and if they viewed it as country music. My first volunteer was Drew Buck, a senior at Loyola Academy.
When asked of his opinion, Drew Buck exclaimed, "This song is nasty! I bump this song in the shower, in the car, you name it. I can't stop listening to it… definitely falls under the country genre as well."
Senior Malley Flanagan had a contrasting opinion to the song. Malley claims that the song "doesn't have a hint of country in it." She elaborated, saying "I've always been a country music fan and this song has never been one that has appealed to me. Yeah, it's catchy but I wouldn't call it country."
So, what is it that makes this song so popular?
Its uniqueness. Present day hip hop artists try to separate themselves from the rest of the industry by being different and one of a kind. Lil Nas X found a way to merge hip hop and country by collaborating with Billy Ray Cyrus. Most avid country fans argue that there is not a hint of country in the song. Regardless, the two broke a barrier in the music industry by joining forces.
The lyrics itself are similar to most country songs. Lil Nas X uses references like, "Horse tack is attached" and "Riding on my tractor" that compliment Cyrus's Southern style of singing. The lyrics are also clean and contains no explicit lyrics. Most rap and hip hop songs consist of unnecessary profanity and meaningless lyrics. Not this one!
Some argue that this song gets irritating after a couple of listens. The song is brief and mostly filled with the repetitive chorus. I am a fan of the song but agree that it becomes a pain to listen to after some time. Will people lose interest in Lil Nas X and his hit single? Keep refreshing the iTunes app, along with the Billboard site to find out.
Personally, I do not think this song is disappearing any time soon. This week, it collected 30 million more streams than Drake's "God's Plan" ever did. Not to mention "God's Plan" reigned at number 1 for nine straight weeks. "Old Town Road" still has a lot of record breaking to do.
If you are reading this and you still haven't listened to it, you most likely live under a rock. Kidding. I encourage everyone to invest three minutes of their time and listen to the song that has the world skipping like a cowboy.
 But hey, if you don't want to listen to it, be my guest. It's only a matter of time before the song comes to you first. Brace yourself.  The "Old Town Road" era is far from over.