Weezer's Top Ten Albums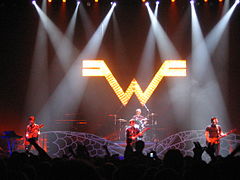 Jack McNabb, Writer
May 13, 2019
Weezer's debut masterpiece Blue turns 25 this year. Let's take a look at their top ten albums.
Number Ten – Raditude 2009
Weezer and Rivers Cuomo experienced a dark ages of sorts in the mid/late 2000's. One of their most straight and polished albums, Raditude surprised and angered die hard fans, as it was such a dramatic shift from the material that brought them fame. Although Raditude, in the eyes of purist fans, was a failure, Weezer sought to attract new younger audiences with tracks like "Can't Stop Partying" and "Trippin' Down the Freeway." There were even some tracks reminiscent of the old days with "I Want You To" and a deluxe edition B side "Prettiest Girl in the Whole Wide World."
Number Nine – Make Believe 2005
The album that started the Weezer dark ages, Make Believe is yet another forgettable album. Although it holds arguably one of their most popular tunes, Beverly Hills, which played on every radio station and in every mall for the entire year, this album does not have much else. Again, Make Believe attracted new audiences, and I can't blame Rivers for wanting to grow his brand.
Number Eight – The Red Album 2008
Red is the best album that came out of the Weezer dark ages. Red produced the forgotten gem, "Greatest Man That Ever Lived," a track that contains multiple movements and even a gospel choir. An amazing, underrated song on an underrated album.
Number Seven – The Teal Album 2019
Some may argue that Teal does not belong on this list. If we were talking original albums, yes, Teal would not be featured. However, I think this album is a solid piece of music. Teal features covers from bands such as Toto, TLC and Black Sabbath. Rivers pays homage to his inspirations all the while delivering classics with an updated yet old school Weezer sound.
Number Six – The Green Album 2001
Five years after their widely criticized  Pinkerton, Weezer returned to the rock scene with Green, an ultra polished, radio ready pop rock album that featured hits such as "Island in the Sun" and "Hash Pipe." Green is a very solid album that brought Weezer into the radio scene after the perceived failure of Pinkerton. More on that later.
Number Five – Everything will be Alright in the End 2014
Shorthanded EWBAITE, this album resurrected Weezer and brought them out of their dark ages. Rivers and company made a return to their roots, releasing anthems of remorse for the last years and vowing to get back on track, as mentioned in the tune "Back to the Shack."
Number Four – Maladroit 2002
Arguably one of Weezer's most underrated albums, Maladroit served as a transition out of Weezer's beginnings and into their commercial era. A polished but also grungy, harder collection of songs, Maladroit is a very solid album.
Number Three – The White Album 2016
White sought to finally revitalize Weezer's origins. Hard hitting power chords blasted through blaring amps on White was reminiscent of their beginnings, something many fans wanted for a long time. White saw radio hits like "King of the World" and "Thank God for Girls" finally delivered Weezer out of their dark ages for good.
Number Two – Pinkerton 1996
Sophomore albums usually don't hit as hard as their predecessors and for a band to release to platinum albums one after another is a great feat. In 1996, Weezer did exactly this with Pinkerton. Although receiving negative reception at first, Pinkerton eventually reached platinum status years later. A far more raw and emotional album, Pinkerton differs greatly from Blue. Both albums are widely considered as masterpieces.
Number One – The Blue Album 1994
Weezer's debut album short handed Blue is an undeniable alt rock gem. Released shortly after Cobain's death, Blue changed the rock scene forever. At the time, Weezer was an unheard of band that struggled to gain fans. Blue, written by self labeled nerds, attracted audiences of all kinds. The Beach Boys like sound paired with grungy style guitar is timeless. Many purist fans argue about the best slot going to either Blue or Pinkerton. Each album has their own special aspects, but at the end of the day, Pinkerton shows Rivers' dark side while Blue has a much more positive exterior. Both albums are amazing, but I think Blue is the best because of its wide range of sound and emotion. No matter the day, or the mood, I think anyone can pop in Blue and enjoy themselves.