Cochico Steps Up to Men's Varsity
Hang on for a minute...we're trying to find some more stories you might like.
She's small, she's loud, she's mighty — and she's on the boys' team. 
Yes, you heard that right. Senior Courtney Cochico is the dedicated coxswain of the Men's Varsity crew team.
It wasn't always that way; Courtney initially began on the Girls Novice Team as a freshman. She says that she "was by far not the best coxswain on the team," but that she was passionate and put all her effort into being the best she could be.
As a coxswain, Courtney is "responsible for the safety of [herself], eight rowers, and the boat." She is in charge of motivating the rowers, steering the boat, and ensures the boat makes it to the finish as quickly and safely as possible.
Later her freshman year, a coxswain on the Boys Novice team became unable to cox for the rest of the year. Courtney's hard work was about to pay off.
The novice coaches chose her out of the three Novice Girls' coxswains to cox for the boys.
There are some obvious differences between being on the Girls and Men's teams, but Courtney enjoys being on Men's Varsity. "There is never a dull practice," she says.
When people find out that Courtney is on the Men's Varsity rowing team, they are shocked. They are surprised that such a small girl can yell at boys, most of whom are over a foot taller than her, and not be intimidated.
Courtney notes that her only point of discontent with being on Men's Varsity is the height difference between her and her rowers.
Overall, however, Courtney says her experiences on the boys' team has helped her gain confidence, both physically and mentally. "I used to be as shy as a turtle," she says, "but now I am proud to say that I am no longer afraid to speak out or yell as loud as I can in the boat."
Courtney has enjoyed her time as a coxswain so ardently that she hopes to continue coxing in college.
"I have also made some of the best friendships I have ever had with the people on this team," she says. "I also love…being able to improve as a coxswain, even through all the bad days."
About the Writer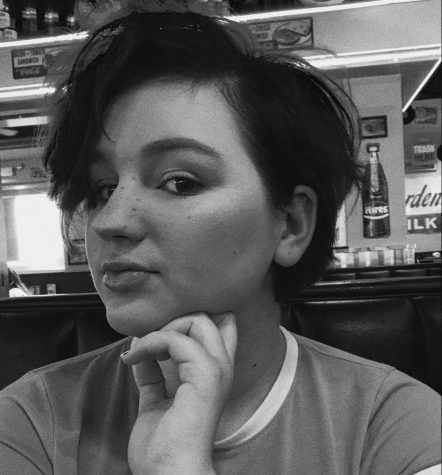 Sophia Dempsey, Editorial Staff
Hey! My name is Sophia, and I'm a senior! Besides writing for The Prep, I am an avid member of Loyola's classics club serving as co-president. I am...