Look into Girls Volleyball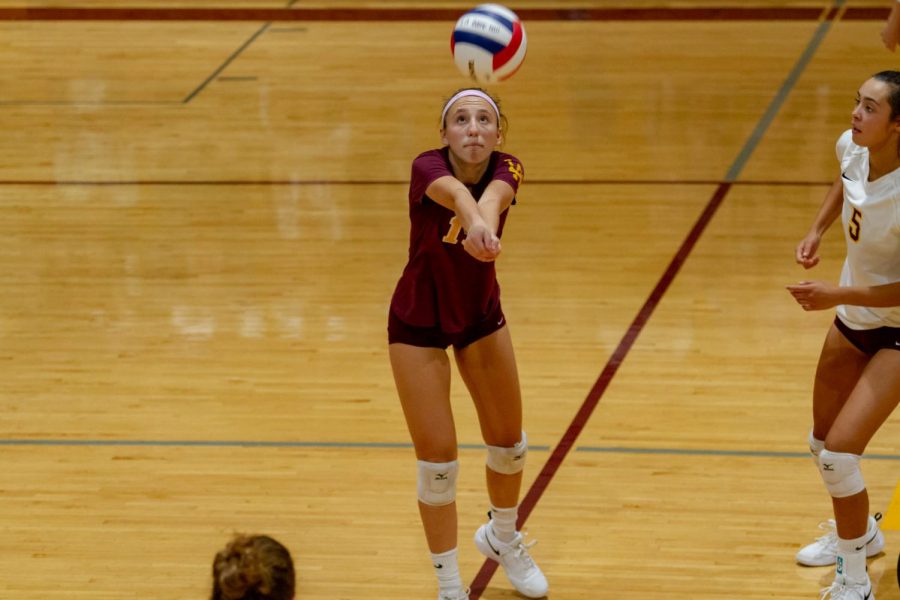 How well do you know Loyola Academy girls volleyball? I'll be honest and say that I don't know anything about the girls volleyball team, or really any sports frankly. But with the start of the athletic season and the competitive rivalries afoot, let's take a deep dive into the Loyola Academy girls varsity volleyball team.
Now to get us started, lets get some general information out of the way. Now if you don't know anything about volleyball I'm not going to help you out. If you want to learn about the sport, just Google it.
On the varsity team there are 14 girls, and they are pretty good at what they do, if I can brag for them. Last year they won regionals, sectionals, and made it to super sectionals. Unfortunately they did lose, but they got 5th in the state, which is pretty impressive.
Even now at the start of their new athletic season they are killing it. Their last game was Wednesday, Sept 11 against New Trier, and they won. They destroyed the first and second rounds with final scores being 25-15 and 25-12. 
To really deep dive into the girls varsity team, I interviewed one of their members, Grace Anello. She is a senior at Loyola and her position is Libero, that basically means she is a defensive specialist who hangs out mostly in the back. 
When asked what her favorite thing about her sport is she said the feeling of winning. She loves how excited her team gets when they score a point.
Grace was also asked what she attributes to the team's success to which she responded with teamwork. She explained it to me that passing is one of the most important things in volleyball and that without the team's ability to work together, they wouldn't win. 
Although this article is about volleyball, that's not the only thing Grace does. She has managed to go on kairos, summer service, and contribute to the intramurals while still being dedicated to volleyball. 
Back to volleyball, Grace wasn't always in the libero position. As a freshman, she started on the outside, but knew that she wanted to be a libero so she tried and worked hard and got on JV libero. She then moved up and forward in junior and senior year as varsity starting libero. 
Grace isn't just someone who picked up a sport freshman year and decided to roll with it. She has been participating and practicing volleyball since 6th grade. She is dedicated to what she does and good at it, too. 
Hopefully this opened your eyes to the amazingness of girls varsity volleyball and you will root for them as Grace Anello and all the other girls climb their way to the top again.