After Taming the Mustangs, Ramblers Look to Conquer the Caravan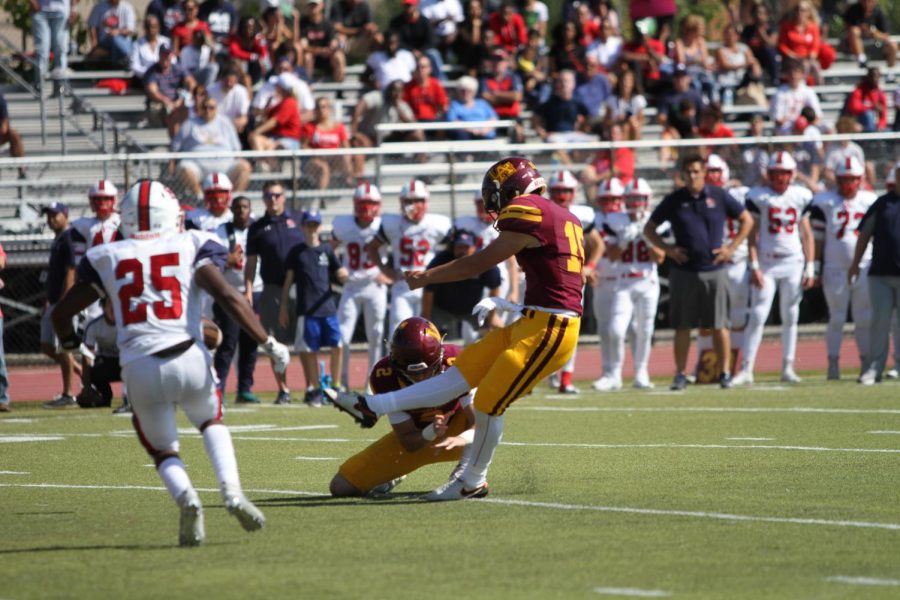 After last Saturday's triumph over St. Rita, the Loyola Varsity football team looks to extend their win streak. However, a Rambler win looked in jeopardy last Saturday after a slow start. The Ramblers and St. Rita Mustangs were knotted at a 7-7 going into the half.
However, Junior running back Vaughn Pemberton provided the much needed spark with 138 yards and 2 touchdowns on the ground. In addition to Pemberton's performance, the defense had a spectacular second half, allowing zero points.
Another notable achievement was Junior Nate Van Zelst's 49 yard field goal in the second half. This marked the longest field goal of his high school career, and showed why many Division 1 schools should be after him. 
In the end, Loyola emerged as the victor winning 24-7. The Ramblers now sit at a very promising 2-1 record. 
Looking ahead, The Ramblers face a very tough opponent in Mount Carmel. Mount Carmel enters the game sitting at 4-0 with a key win over Main South last week.
The well-coached Caravan's success is no accident. They are led by junior qaurterback Justin Lynch.
Lynch's brother, Jordan, was a Heisman Trophy finalist for Northern Illinois in 2013. Similar to his brother, Justin is dangerous throwing and running the ball.
Aside from Lynch, Mount Carmel has a great deal of speed at each position. Junior linebacker and running back, Kenenna Odeluga, is a player to watch out for on both sides of the ball. Oleduga's speed on defense is paired with senior Jalen Grant's power. Grant plays both offensive tackle and defensive line, so his presence will he felt on almost every play. 
The game should be a good one. I predict the trip to Oak Lawn to be close defensive battle, inevitably ending in Rambler win.