After Tough Loss to Mt. Carmel, Ramblers Look to Bounce Back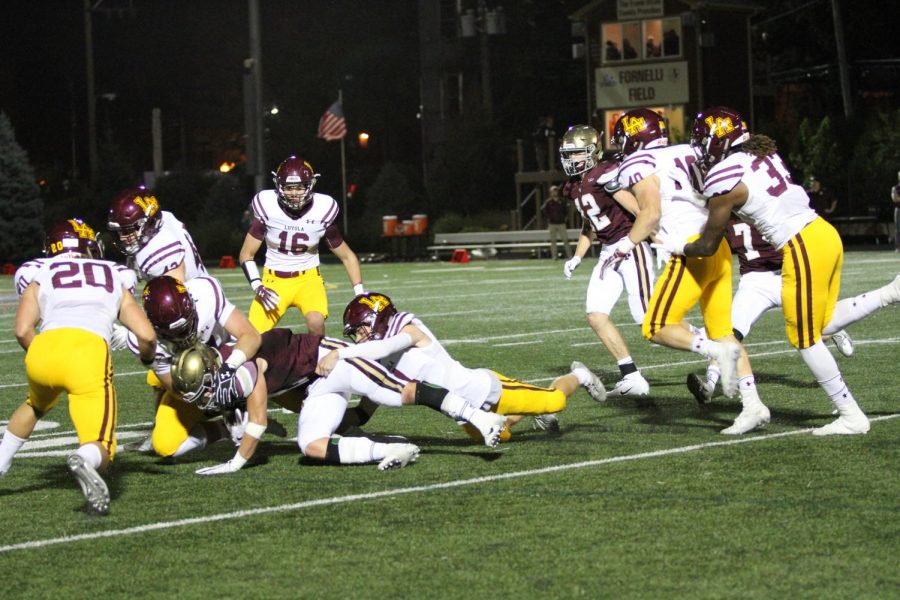 The Loyola Academy varsity football team suffered a disappointing loss Friday, September 20 at Mount Carmel.  An inspired performance by the Ramblers, including junior Marty Auer's efforts of an interception and blocked FG, was not enough to get the win on Friday. 
The clash was mostly a defensive battle. Junior quarterback, JT Thomas, found star receiver Matty Mangan for a 71-yard touchdown in the third quarter of play. This play looked like it would turn the tide of the game.
However, Mount Carmel fought back and eventually kicked a field goal with just seconds to play.
The contest finished 17-14 in Mount Carmel's favor. The Ramblers drop to a 2-2 record on the year. 
Next week, the Ramblers are once again on the road. They face St. Ignatius who has a 2-2 record as well. 
The Wolfpack is an interesting matchup for the Ramblers this week. Head coach, Matt Miller, leads a very disciplined and tough team, which should make for an exciting game.
Quarterback Leo Rugai, has been the key player to the Wolfpack's success this season. He has been dynamic in the passing game and running game. If the Ramblers can slow him down, they should be able to win the game.
I expect the Ramblers to win big in this one. The Rambler defense shouldn't have a hard time holding the Wolfpack offense. While the ongoing quarterback battle position is a slight concern, I think the Ramblers will figure it out by Friday. 
My prediction is a 27-10 victory at Ignatius.