Co-Curriculars Put on a Show at the Fair
Just this week on Tuesday, September 24, in the East Gym, the co-curricular fair took place during our flex periods. During the fair, most of the clubs that Loyola has to offer set up posters to advertise their clubs to their fellow Ramblers.
As I was looking around, I stopped to look at many posters that were all very well crafted. Clubs like the Polish Club, Art Club, Adventure Games, Theatre, and Philosophy are just a few of the great clubs that Loyola has to offer.
The first club that caught my eye was Polish Club where members Julia and Malina Mendel, both freshmen, explained that there are many activities that their club does such as family activities, bonding activities, service activities, and they even celebrate certain holidays together. Even then, that only scrapes the surface of all that Polish Club has to offer. They meet the first and third Thursday of every month, and I highly suggest you check them out.
The second club that grabbed my attention, and I'm sure the attention of many, was the Art Club. There I spoke to Mia, a freshman, who said that there were many good things about the Art Club. She said that you could create whatever you want, and there isn't any artistic ability required.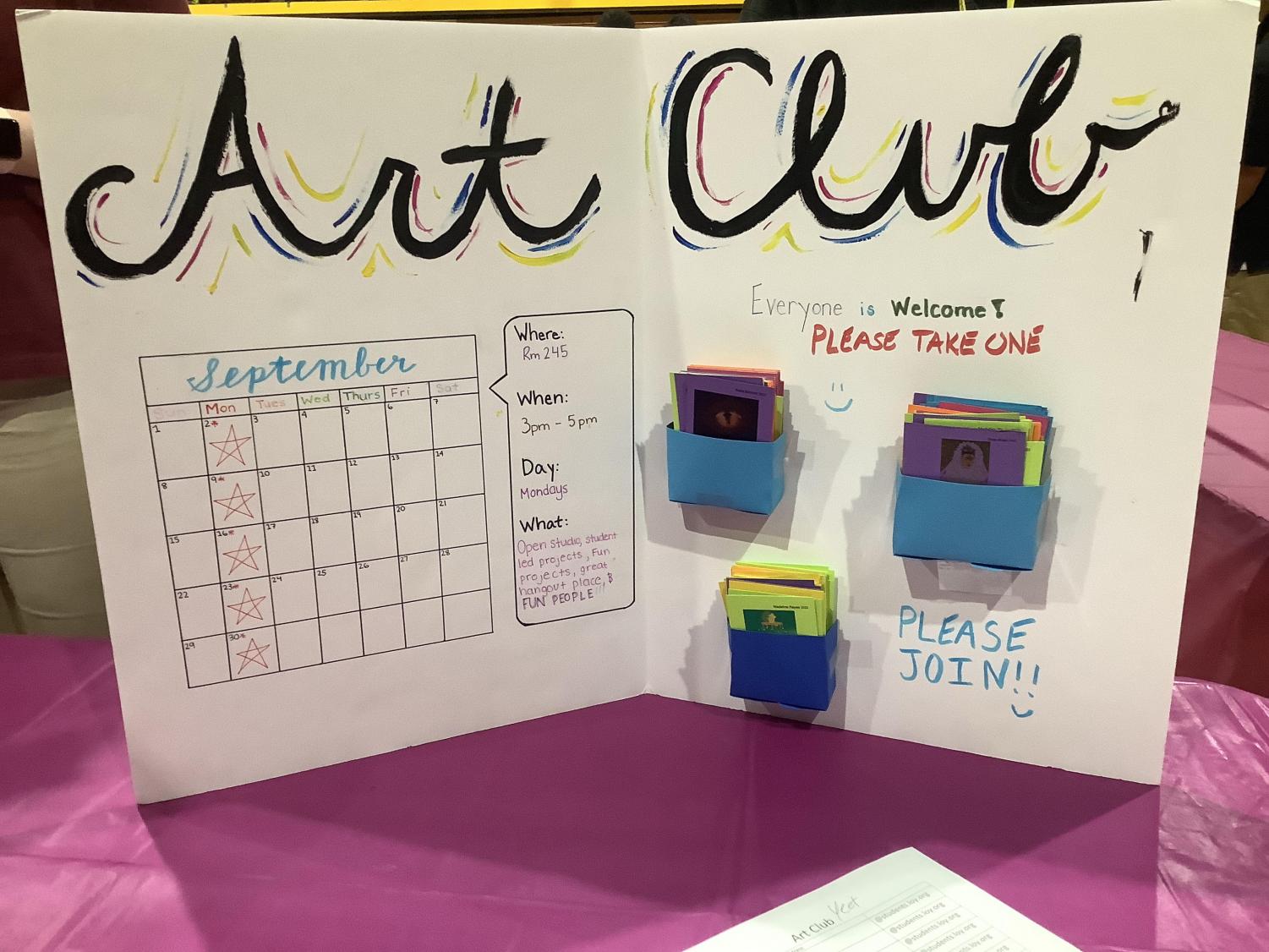 Mia also added that you could drop by on any day that they're open; it doesn't have to be a full-time commitment. Art Club meets from 3-5 on Mondays, so if you want something special to kick off your week, go check them out.
Next, I stopped by Adventure Games and spoke to Rachael Haley, another freshman, who said that there was a lot of team building, storytelling, and math involved in the Adventure Games Club.  They meet on Thursdays from 3-5. If you're interested in the fantasy world of storytelling, make sure to jump into the action. 
After that, I stopped by Theatre, where I spoke to Emilia Rosinski and Kameron Rojas-Schueneman, two seniors, who spoke very highly of the Theatre Program. Both of them said that the community is very close-knit, and the only difficulty is stepping out of your comfort zone.
Theatre meets every day after school, so if you want to try something new, make sure to stop by. Theatre also has a production of Chicago coming out in November. It runs from the 14th-17th, so even if you don't want to be a part of the production, make sure to come and support our Theatre Program.
Finally, I stopped at Philosophy Club, where I spoke to Rebecca, a freshman, who said that Philosophy was not based on just one subject but on a whole load of them. Just a few of the ones she mentioned were Aliens, Freedom of Speech, Human Rights, and many more burning topics. If you want to check out the Philosophy club, they meet after school on Monday, so pop in to join the conversation.
All of the clubs that I interviewed had amazing people in them as well as great activities that all the members take part in.  I wish I had more time to explore all the possibilities available to every Loyola student. If you are interested in joining a club don't forget to go and check it out under the Resources tab on the Loyola website.