Netflix Flop or Bop: "In The Shadow of the Moon"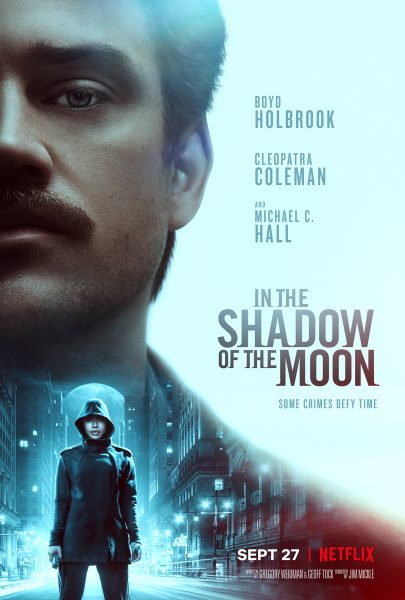 In the new era of digital streaming there it one name that everyone knows: Netflix. While they are one of the biggest and most popular forms of digital streaming services, they have also branched out into making original content. Pioneers for the idea, Netflix made dozens of "Netflix originals," some slam hits include Stranger Things, Chilling Adventures of Sabrina, & Black Mirror, but others don't trend as high. So whenever Netflix releases a new movie or tv show it is always shaky at first wondering whether it is going to be good. One of their newest movies, In The Shadow of the Moon piqued my interest, so I decided to watch it and let all of you know if it was a Netflix flop or bop. 
The general premise of the two hour long movie is a Philadelphia police officer who slowly goes crazy while trying to solve a decades long serial killer murder mystery. Starting in 1988, officer Thomas Lockhart, played by Boyd Holbrook, is caught in the middle of a serial killer investigation when he finds and chases down the suspect. Seemingly having her cornered in a subway, he thinks he has won when all of the sudden, before he can apprehend her, she is hit by a train.
Nine years later, a string of very similar murders happens and video surveillance which shows the exact same woman, alive. This sends Thomas into a frenzy, slowly connecting the dots, but in the process losing the people closest to him. 
In The Shadow of the Moon definitely was an interesting movie, to say the least. As you may or may not have guessed, this movie is about time travel, which is always a tricky topic. It often becomes confusing and convoluted while trying to explain things, making the movie boring or uninteresting. The movie does have its fair share of uninteresting bits, but overall it is an engaging movie.
If you don't like blood, gore, and nasty details, then this movie definitely isn't for you. Its rating is TV-MA just because of its use of blood and gore and strong language at times. Having said that, it is just a classic mystery, sci-fi flick, and I wouldn't feel uncomfortable watching this movie with my family. 
As said before, the movie is interesting. The plot is engaging and you want to know more about the time traveling, serial killer, and other plot points. It also draws you in with an eerie prologue of the year 2024 with an image of destruction from atop a skyscraper. It gets you wondering how all the plot points are connected and how everything fits together.
The acting and filming quality is pretty good, not leaving you disappointed. The actors themselves also shouldn't be overlooked: Michael C. Hall, Boyd Holbrook, and Cleopatra Coleman are the three main characters and have been in shows like Dexter, Predator, Logan, and The Last Man on Earth. 
Overall In The Shadow of the Moon isn't a Netflix flop, but unfortunately not a bop either. Scoring a solid 6-7/10, it will probably go unnoticed by the masses, but the ones who do watch it won't be disappointed. You get what you came for: a time travel serial killer and all the complexities that come with it.