Ramblers Broadcast Spirit to Chicagoland Viewers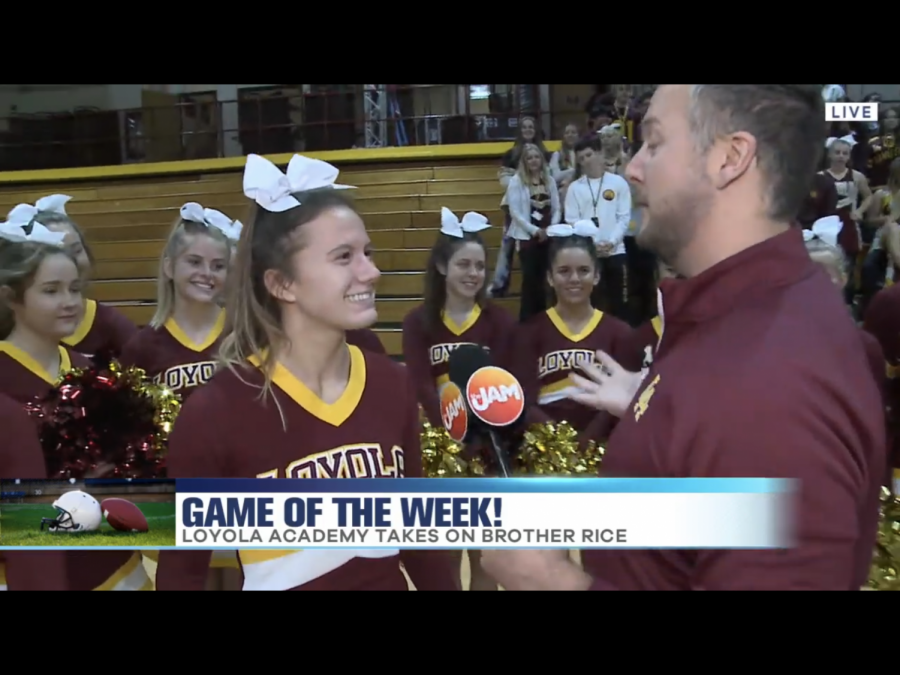 Getting to school at 6:00 on a Friday doesn't seem too fun, right? Not for some dedicated Ramblers! In preparation for homecoming, local Chicago news show The Jam visited Loyola to meet some Ramblers and talk about our school's most exciting aspects. 
First up, anchor Jon Hansen visited the girls varsity swimming team and talked to senior Chloe Brown about the hard work and dedication it takes to be on the swim team. Then, he raced the girls in an exciting match he unfortunately lost. 
Next, Hansen visited the piazza to hear from Loyola's own a capella groups Nothin' But Treble and Acafellas. He listened to their spectacular rendition of "Somebody To Love" by Queen, featuring solos from seniors Catherine O'Conner and Kameron Schueneman. 
After that, Hansen headed to the gym to talk to the Ramblerettes about their part in making a Loyola game day exciting. He was even taught a kick line and was then treated to a special performance. 
Hansen also got to talk to the Loyola Marching Band and hear from drum major Maggie McNabb, Evan Hernandez and Emily O'Donoghue and drum captain Aleah Parafinczuk. Then he was treated to a special performance of "Hey Baby" and the Loyola fight song. 
Next, Hansen talked to cheer captains Lilli Awdisho, Ali Levi, and Olivia Norton about the game and was even lifted in the air in a stunt. Finally, Hansen talked to a few of the football players themselves about how they feel about taking on Brother Rice.
The segment ended with Hansen going long and then missing a throw from junior quarterback JT Thomas.