Meet a Rambler Week Five- Anabelle Flaharty
Hang on for a minute...we're trying to find some more stories you might like.
For Week Number Five, I interviewed junior Anabelle Flaharty. Anabelle gave a very interesting interview, that I really believe reveals some of her deeper qualities. At first glance, her responses were overwhelmingly service-oriented, which is fantastic for to see for a Loyola Rambler. She started it off by explaining that her passion for service, especially kids, is one of the main things that makes her unique. Anabelle has participated at Madonna mission in Chicago every quarter that she's been at Loyola so far, where she helps under-privileged kids with their schoolwork. This is evidence enough to support her love of service, but over the summer she also went to the Dominican Republic. She helped provide medical help for some ailing children, as well as construct dependable housing for some of the homeless local families. 
If given a day to do anything, Anabelle thoughtfully responded that her first thought would be having the opportunity to travel to a place of great need, such as Africa, and feeding the hungry with thousands of meals. Similarly, her dream career is to be a doctor, specifically a pediatrician, in underprivileged countries. Her dream for her life as a whole is to make a positive impact on the world, and love every second of it. When asked what prompted all these unbelievably selfless responses, Anabelle replied, "I have always had the need to give back, especially because I have been given so much throughout my life." Concluding Anabelle's service at LA is her leadership position in the UNICEF club here at Loyola, where she seeks donations to help children in the most need around the world. 
Anabelle describes herself as hardworking, determined, and just generally happy. She is just as quick to help a friend, as she is a child in need. Her friend Betsy Delaney '21 provided a story that she believed described Anabelle's character: "I was struggling with some math homework, and Anabelle dropped her own responsibilities and work to help teach me the material. She is always there for me, when I need her."
Along with her service, Anabelle spends her time running track. She loves to sprint, and enjoys the team appeal of track. Anabelle also said that it works as a stress relief for her, in what is an obviously busy life. Her academic life is just as rigorous as her service lifestyle. Her honors pre-calculus teacher Mr. Sultan described Anabelle as someone who "brightens his day with just her smile." Anabelle is clearly a happy person who works to make others as happy as her through her service. Make sure to say hi if you see her in the hallway!
About the Writer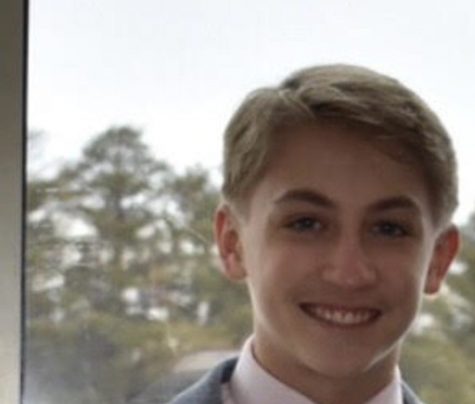 Jack Garrigus, Editorial Staff
I'm a junior at Loyola, and this year I am serving on the Editorial Staff. I also run cross country and play basketball at LA. Outside of sports, I am...