Ramblers Ramble One Step Closer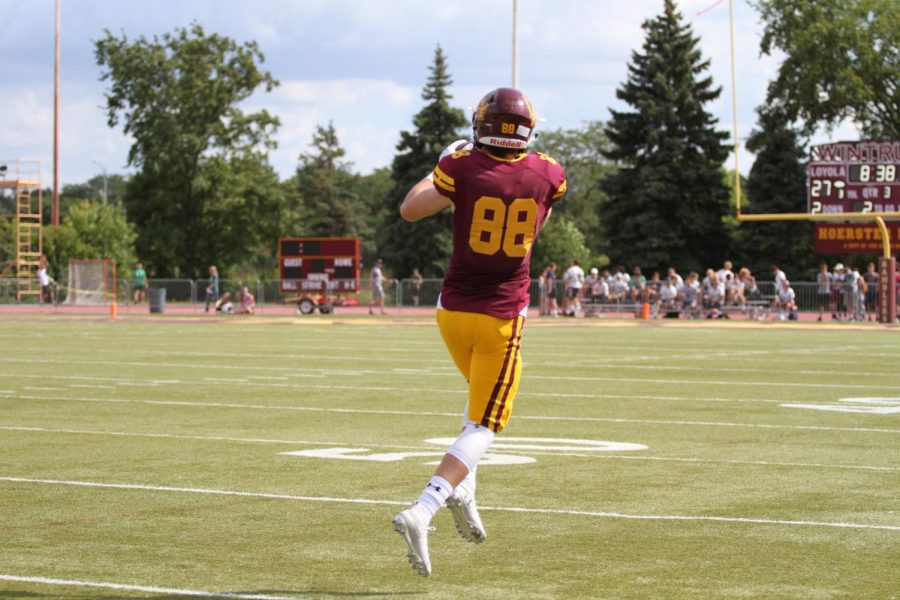 The Loyola Ramblers varsity football team started the playoffs with a colossal win over rival Maine South last Saturday. The first round clash finished 14-6 in the Ramblers' favor.
However, the score didn't tell the full story. Despite the low score, the game was a back and forth affair, filled by several notable performances. The first, was junior Marty Auer's 100 yards interception returned for a touchdown and blocked field goal. While the interception return was eventually called back, it seemed to set the tone for the rest of the contest.
The other key performance came from senior wide receiver, Matty Mangan. Mangan finished with 9 catches for 116 yards and 1 touchdown. The touchdown was all made possible by a beautiful throw from junior quarterback JT Thomas in the corner of the end zone. The touchdown came when the Ramblers were trailing 6-0 in the fourth quarter. After the play, it felt as if the Ramblers could not be stopped.
The Ramblers win moves them to the second round where they will host Glenbard West. The Hilltoppers will come into Hoerster field on Saturday, November 9 with a 10-0 record this season.
So far this season, it feels as if the Hilltoppers haven't been tested. They have demolished opponents by scores of 55-0, 57-0, and 48-2, just to name a few.
Their biggest strengths come in their backfield, where they have a ton of running back depth. Last Saturday in their win over Downers Grove South, Nic Seifert rushed for 119 yards and two touchdowns on just 8 carries. His partner in the backfield, Jalen Moore, also did his fair share of damage with 113 yards and two scores on just 13 attempts.
However, the main weakness of this team is their lack of size on the offensive line. If the Ramblers want to limit the Hilltoppers' offensive production, they must control the trenches and force them to throw the ball.
On the offensive side of the ball, the Ramblers hope to get back running back Vaughn Pemberton.
Pemberton has been in the key to the Ramblers offense for much of the season, so getting him back could be the deciding factor on Saturday.
The game will begin at 1pm at Hoerster Field, and the winner will move on to the Quarter Finalsof the State tournament.