Ramblers Retain Cup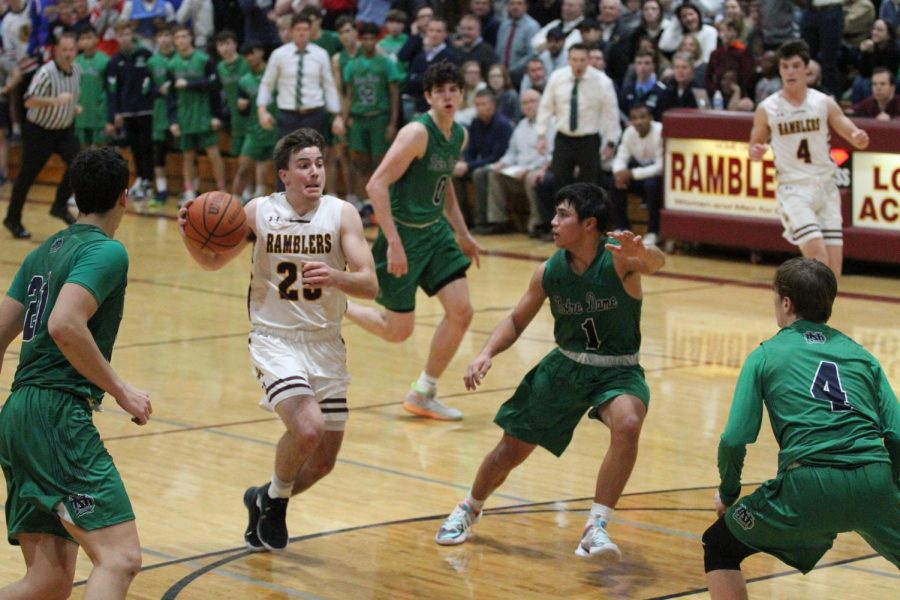 Friday, January 10, the varsity boys and girls basketball teams participated in the Annual Jesuit Cup vs St Ignatius. Large crowds from both Jesuit schools packed Loyola's University's Gentile arena for another year of intense rivalry filled basketball.
The first game of the night promised to be exciting, as the girls teams faced off. The contest proved to be one of the most exciting contests of the season, as the Ramblers prevailed in OT.
The win came large in part to a strong team defensive effort and a scoring attack led by junior Silvana Scarcella. After a win against a solid Regina team on Tuesday, the Ramblers remain hot, winning 5 of their last 6.
As for the Boys, the magical season continued with a win on Friday. Fresh off his 300th win, Coach Thomas Livatino and the Ramblers faced an unexpected test in St. Ignatius. While the game started tough for the Ramblers, they pulled away in the end for a 43-31 victory.
Much of the Rambler's success this season is attributed to their next man up mentality. While the shots may not have been falling for some, senior Guard Billy Palmer stepped up and provided the crucial spark for the Ramblers with a career high 16 points and 5 rebounds.
With the win, the Jesuit Cup once again returns to Wilmette. It is the fourth straight year that the Ramblers have won the Cup.
The hectic week for the Ramblers continued on Saturday against St. Viator. Despite little preparation for the game, the Ramblers still came out on top in OT 40-39.
Notable performances included senior Bennet Kwiecinski's 16 points and senior Matthew Enghauser's clutch free-throws to ice the game.
The Ramblers now sit at 17-1 and own the number #6 ranking in the entire state. Their dominance will once again be tested this weekend in the annual War on The Shore. The Ramblers will face off against highly ranked Homewood Flossmoor at New Trier.
Homewood Flossmoor owns the #5 ranking, and is riding a large win streak coming into the game. I expect a close contest that could come down to the last shot.