Maroon Ramblerettes Take on the CLDC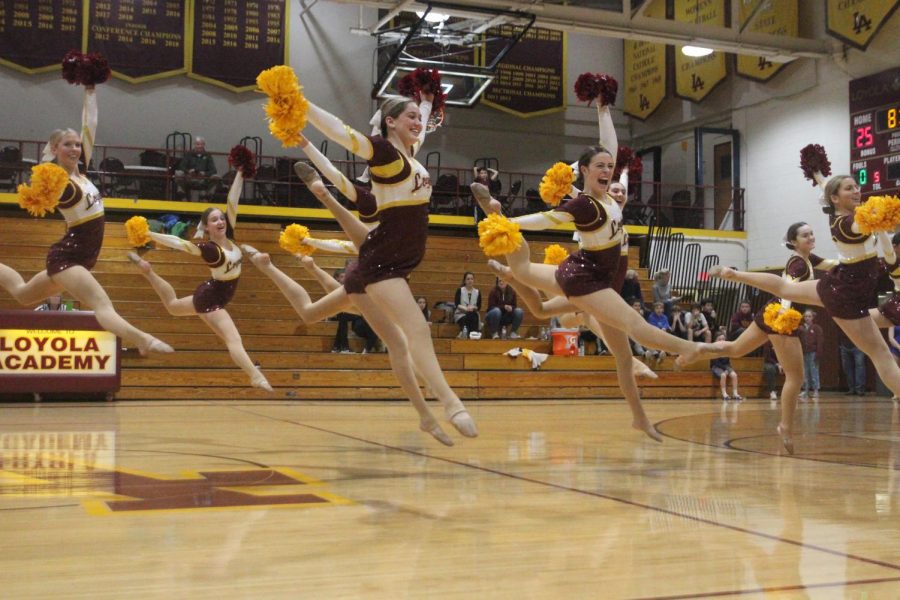 Loyola's Maroon Ramblerettes, coached by Kerry Dubay, finished second place in the 2020 Catholic League Dance Championship on Sunday, January 19th. The competition took place at Loyola Academy and hosted a number of skilled varsity and junior varsity teams.
Geneva Varsity Dance Team finished in first place, just half a point ahead of the Ramblerettes. This was a victory for the Maroon Ramblerettes. Caroline Gubbins, a sophomore on the team, described the Catholic League Dance Championship as "A win in our book!"
The Ramblerettes passionately delivered a practically perfect performance. Coach Kerry Dubay agreed with this saying, "It was by far their best performance!" She added, "The team's improvement was reflected in their scores. The fact that they placed second by only .5 to a very talented varsity team shows that they have improved a lot," Mrs. Dubay said with pride.
The Maroon Ramblerettes' coach enthusiastically said that it seems to be starting to click for her girls, which is fantastic with sectionals and state just around the corner.
Caroline Gubbins gave me an inside look as to what goes on behind the scenes when preparing for competition season. She explained that once competition season starts, the Ramblerettes' practices become longer and more frequent. As she put it, "Our team doesn't mind the vigorous, tiring practices because we all have so much love for one another and our sport." She added "The team moral really motivates us to push ourselves and be better."
As I observed the dancers on Sunday, this connection was clear to me and everyone in the audience. Every turn, every hit, every breath oozed with power and energy. The emotion they portrayed was breathtaking and you could feel the love they have for one another. All of these qualities shined through in their performance, affirming how great of a team they are.
Coach Dubay had a similar response when I asked her what changes as competition season approaches. She explained to me, "Practices tend to be more intense. We do things more full out and intensely clean both routines."
She added the goal is to make each routine as sharp and crisp as possible, in addition to working on synchronization and timing.
It was clear that the Maroon Ramblerettes have been working on these things because their routine on Sunday was seamless. They were able to find a balance between sharp and smooth movements. This contrast demonstrates the effort Coach Dubay and the dancers have been putting in each day.
With this successful competition under the Maroon Ramblerettes' belts, they are feeling more confident about what's to come in the remainder of their season.
They now know that they can hold their own when competing against varsity teams, which is a huge confidence boost. Way to go Maroon!