Spring Seasons in Jeopardy
The recent announcement to extend E-Learning until at least April 20th means one thing for Loyola's student-athletes: more of their season taken away. 
Unfortunately for spring athletes, their seasons were abruptly put on hold— many without having a single practice. With everything up in the air right now, it is ultimately unknown when these seasons will resume. 
Mrs. Atwood, athletic director, says she "is saddened for Loyola athletes and coaches, especially seniors."
Atwood continued to explain that the COVID-19 pandemic is asking all of us to sacrifice something for the good of others and as a Jesuit school, we are called to serve others and care for our community. "Sacrificing the spring season is painful, but it is a small sacrifice compared to the people who are suffering and losing their lives as a result of this pandemic," she said. 
Annabelle Burke, senior lacrosse player, says she is "obviously super upset that this is happening, especially in my last season, but I know that all we can do is hope that we will have another chance to play together." 
IHSA has said that schools should not organize any spring season practices or games for their teams while Illinois high schools are closed. However, it's definitely important for these athletes to be prepared should their seasons continue. 
That said, athletes have been getting creative with their new routines. Burke explains that everyday, the senior players send a wall ball routine and workout for the day. "That really helps us stay focused, connected, and keep the hope," she added.  
"It is important for our athletes to compete again, and especially for our seniors to compete as Ramblers for their final season," Atwood said. 
Senior Michael Ellingsen, who plans to continue his baseball career next year at University of Wisconsin-La Crosse, says "not having a senior year and gaining the experience at this level has a big impact, losing a year could really mess up my growth as a player." 
With everything ultimately unknown at the moment, all we can do is hope that Loyola athletes will have the opportunity to participate in the spring season.
As Mrs. Atwood said, "LA athletics is strong and supportive." So, say a prayer for our Loyola athletes!
About the Contributor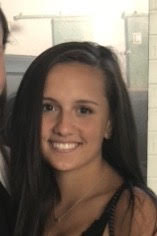 Gianna Lapasso, Editorial Staff
Hi! My name is Gianna Lapasso, I'm a senior serving on the Editorial Staff. I'm mainly interested in reporting on Sports and School News.