Dream Team '97 – The Last Dance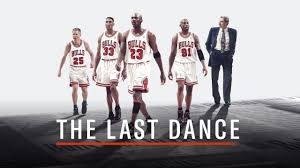 People of all ages are getting to relive the crazy NBA season of 1997-98 and "dream team" of the Chicago Bulls including the greats like Michael Jordan, Scottie Pippen, and Dennis Rodman.
The Last Dance mini series makes viewers feel like they are on the team, experiencing the highs and lows of one of the greatest seasons for the Chicago Bulls.
During the 1997-98 season of the NBA, a camera crew had all access to the Chicago Bulls and recorded everything possible during the season. After a little over 20 years, the documentary has finally been released (just in time for the stay at home order). The mini series mainly focuses on one of the best NBA players Michael Jordan who helped bring the team to the championship the '97-'98 season.
With two episodes every Sunday night on ESPN, people count down the days until the next episodes air. The episodes that have aired so far focus on topics from Michael Jordan making his way onto the Bulls, how Scottie Pippen was very underpaid for being one of the best players in the league, the crazy story how Dennis Rodman was granted a 48 hour vacation and didn't come back for a while, and the famous Detroit Piston walk-off (sore losers.
Four episodes of the show have been released so far and the ratings are very high, Rotten Tomatoes giving the show a rating of 96% and IMDB giving a rating of 9.5/10. Many viewers believe the show is put together very well.
"I love the set up, how it talks about certain players, certain teams that were tough to beat, past season, and especially how it's leading up to the championship," says senior Katelyn Clucas.
The series also portrays the energy of the Michael Jordan era the best way it can, from the fans in the stadium to the energy on the court.
"The energy in the gym was amazing, no basketball game can match the craziest of United Center back then," says Jamie Larsen who worked as a paramedic at United Center during that time.
Younger people are getting to see what it was like behind the scenes of the Bulls and listen to the players now talk about how they were feeling during games and especially how they felt about other teams and certain players.
Freshman Corey Larsen said, "It's so cool to see how they played basketball back then, I hear so much about this season for the Bulls and now I get to watch more than just the games."
There are still six more exciting episodes to air over the next three Sundays with each episode focusing on a different aspect of the season. The early release of the mini series is something many have been looking forward to during the stay at home order, it keeps many anticipating the next two episodes.