Men's XC Qualifies for State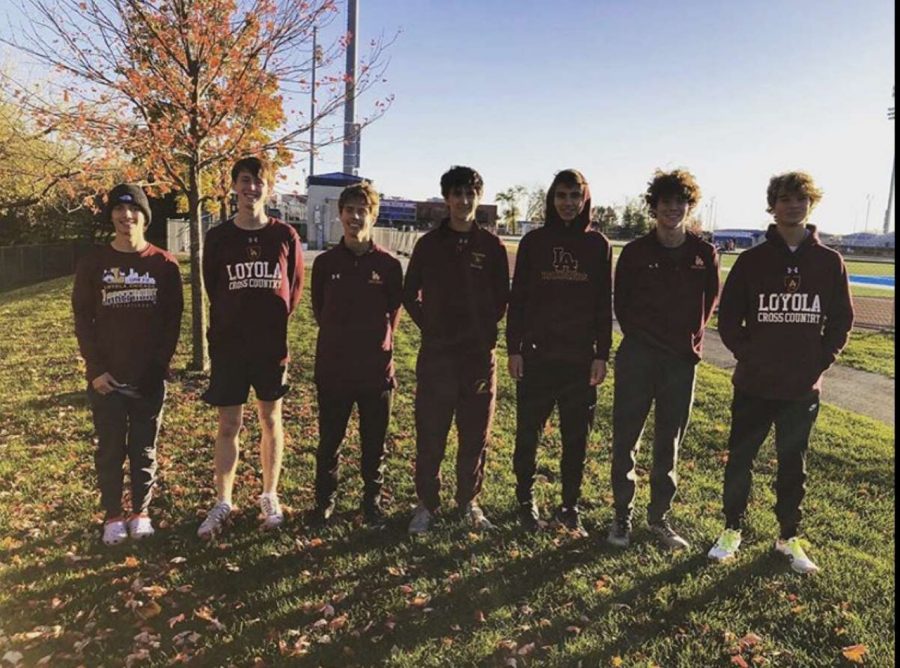 On a blustery Saturday (and Halloween) afternoon, the men's LAXC team marched down to Hoffman Estates for a very strange Sectionals.
In normal years, the sectional race would consist of one race with all seven athletes from each team participating. In the end, the top 5 teams would then advance to the IHSA state competition the following week.
However, this year was much different. Due to COVID restrictions, only 50 athletes were allowed to compete at a time. In a much expanded field, this resulted in FIVE (!!) different races. The top runner from each team (the 1s) ran together first, followed by the 2s, followed by the 3s, with the 4-5 race after, concluded by the 6-7 race. 
The day started off well with junior Spencer Werner running a 15:27.85 in the wind, good enough for a 5th overall finish in the race.
Senior Spencer Dzyacky held his own in a very competitive 2s race, running a 16:24.49. Seniors Michael Solmos, Leo Stanton, and Cameron Matejka all dropped solid times to complement the Spencers, running 16:43, 17:10, and 16:56 respectively. Junior Harry Wood Price broke through in the 6-7 race with a 16:34.38 which proved essential to the success of the team.
After all the points were added up, Loyola finished 5th overall in what is widely considered to be the hardest sectional in the state. Even with some below-average races, Loyola's 158 points were only 9 behind 4th place Hersey. This means that this year's team is the first Men's XC team to qualify for state since 2014.
Unfortunately, the IHSA is not formally hosting a state competition this year. This would mean that this past race was the end of the road; however, a third party organization is now hosting their own state competition. Only the top 20 teams were selected, and Loyola's performance Saturday was just enough to secure an invite. The meet will occur this Sunday, November 6th at Three Sisters Park in Peoria.
Senior Cameron Matejka had this to say after the announcement was made. "I'm really excited that we qualified as a team. We have all been working very hard for a very long time and it feels great to be rewarded for all of our hard work."
Loyola is very proud of the team for their accomplishments this season, and cannot wait to see what they do this Sunday!