Dance Shows Goes Virtual But Doesn't Miss a Beat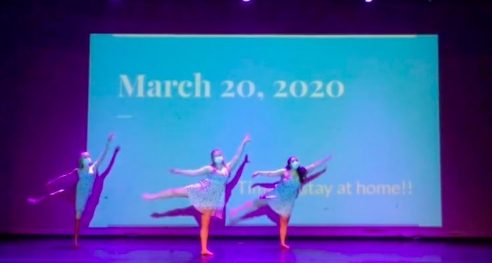 As January ends and February begins, so does something else: dance shows. 
Normally, the Dance Collective Concert takes place in late January or early February in the Loyola Academy theater on a Friday night. You buy your tickets outside of the theater and enjoy an entertaining show next to your family and friends. 
But this of course, was pre-COVID.
With new social distancing rules and regulations in place, other measures must be taken in order to see the performance. The dancers have worked hard, and their efforts cannot go unnoticed. So this year, both Dance Collective (formerly Company B), and Loyola Academy Dance Company (LADC), are doing virtual shows. They tape the dances on different days, and compile them together into one master video for the entire Loyola Academy community to watch and enjoy. 
This year's company consists of fourteen members—seniors Grace Fatuga, Jonathan Taylor, Rachel Legara, Amaiya McCord, and Kaylyn Traan, juniors Julia Antar, Yanni Dunkas, Monique Robinson, and Ashley Sanchez, sophomore Chelsea Homawoo, and freshmen Audrey Cornue and Lily Sandstrom. The company is moderated by Ms. Allison Hornung, one of Loyola's Physical Education teachers, who is proud of the hard work and dedication of this year's team. 
"The process of this show was definitely more challenging than normal," she says. "Besides the usual duties such as casting, organizing a schedule, costuming each dance, designing lighting, and making sure everyone showed up all the time, it was most challenging due to our ever changing schedules we went through with COVID. We held many virtual rehearsals when we were fully remote, and then we had dancers Zoom into rehearsals as well some days. And then the hybrid alphabetical split was tricky at times too due to dancers' schedules, so I am forever grateful for students (and parents!) for getting to school after they were home for classes that day to be in rehearsals after school."
There are seven pieces in the show altogether, each a different style and mood. What a Year is the opening piece, choreographed by director Ms. Hornung, and it's a playful and lively trio about the beginning of the COVID-19 quarantine. The moves are light, bouncy, and springy, and the dancers do a marvelous job of portraying the boredom and frustration of the lockdown. 
Maria is a number to a K-Pop song about being yourself, choreographed by Yanni Dunkas '22. The dance has lots of sharp, concise movements that blend well with the underlying beats of the music. It's a fun and flashy number with surprises at every corner. 
Be Nice is a hip hop routine that has loads of excitement and energy. It was choreographed by Grace Fatuga '21. The costumes and lighting add a variety of depth to the dance, and the movements are simple, but perfectly executed. The rhythm and energy in the dancers is evident from the moment they start dancing to the time the lights dim. 
Stepping away from the traditional hip-hop tone of the show, What Am I Now? is a somber, flowy lyrical piece that I choreographed. The emotion on the dancers' faces really highlights the meaning of both the dance and the song, which is about losing yourself in dark times. The dancers move gracefully as one, melting and contracting into each step.  
Intentions is a perfect example of a hybrid piece. Two of the six dancers are on Zoom, and while I'm sure there were doubts about this, it turned out spectacularly. This vibrant number — choreographed by four-year company member senior Amaiya McCord — is a vivacious and animated number full of flouncy, high-energy moves. Each beat is hit perfectly by each dancer, and it's truly an entertaining piece to watch. 
Ms. Hornung's piece Black and Gold strays from every other dance on the list in the sense that it's not a flowy lyrical piece or an energetic hip hop number — but a theatrical jazz number with all the true makings of a piece that should be on Broadway. From the lighting to the music to the choreography, the dance reminds me of something straight out of a professional show. The dancers dance as one, move as one, and perform as one. Their energy, tempo, and rhythm make for the entertaining jazz piece. It was by far my favorite piece. 
Come Alive is the full-company piece once again choreographed by Ms. Hornung. This is a cross between hip-hop and jazz, with each dancer highlighting their strengths in their assigned sections. We see high leg extensions, sharp movements, and flawless jumps. This number concludes the show with a bow from each dancer and a fun walk off the stage.
This show was phenomenal. It's definitely worth a watch, and if you see it, be sure to share with your friends and family! The dances and more information about them can be found here. 
A special thanks to Ms. Melissa Krein for supervising, Meghan Oeste and Casey Lyons for their technical help, Ms. Debbie Henslee for all of the help, Mr. Kurt Ottinger for the lighting, and Colin O'Sullivan, Aidan O'Sullivan, Tyler Langford, Edward Nieman (RamblerStream) for filming the shows.