Ode to the Loyola Theater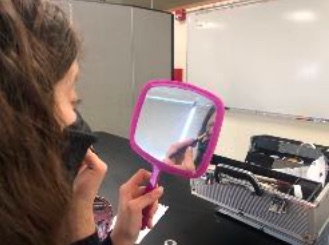 It's a Monday afternoon and the first day of "filming week" for Kate Mahoney and the rest of the cast and crew behind Loyola's spring musical.
Kate's been preparing for this day since her freshman year; her senior show, her last chance to shine at Loyola. She's devoted countless hours towards this show, rehearsing her lines in between classes, practicing the dances in her room every night. To Kate, this is one of the most important moments in her high school career.
Kate Mahoney always knew she wanted to do theater. In elementary school, Kate was a part of a theater troupe in the city, where she would put on "junior" performances of popular musicals, such as Little Shop of Horrors and Annie.
"My fondest memories from that time in my life took place at that stage, with those people," Kate said.
That experience led her to pursue theater in high school. However, high school theater was much different than her small theater troupe.
"In theater programs like that, they have to cast you because you paid them. Here, they don't have to. It's definitely more competitive."
Freshman year, Kate didn't make the cut for the play nor the musical. The following year, she got a part in the musical, however it was a very small ensemble part. Her junior year found her with a role in the musical, this time her part being a little bigger but still small compared to others.
"All I ever wanted was to be a lead, as selfish as that sounds. I looked up to all the seniors who got those roles and I told myself that someday that would be me."
Flash forward to today, where Kate stands getting ready to go on stage in this year's show: The 57th National Mathlete Sum-It. She plays Melissa, the captain of the "Number Nerds" (the fictional math team in the show) and is one of six leads.
"Kate definitely deserves it. She's remained loyal to the theater program and she has shown such growth since her freshman year. I'm extremely proud of the performer/student she's become," director Sandra Smycz said.
Kate acts alongside some of her closest friends, including her best friend Maggie. Kate and Maggie met through Loyola theater and have formed a tight knit bond ever since.
"Kate and I have grown so much together since we were freshmen, working on building sets for the play. Being able to put on our final show at Loyola with one of my best friends is such a great way to finish this long journey," says Maggie.
As filming week begins, so does the last week of Loyola theater for many seniors, Kate included.
"Loyola's theater program is such a wonderful community. It just feels like I'm acting with my family," says Kate, "it's gonna be much more difficult next year, I feel like I'm leaving my whole family behind."
Kate plans to continue pursuing theater in college. She is unsure of where she's going to continue her education, but she remains excited and hopeful for her future.
Many agree that Kate is going to do well at college, with her director, Smycz, saying, "I believe Kate is gonna do extremely well wherever she goes. She has such great determination and perseverance, I just know that she is going to find success."