NF Releases New Mixtape: "Clouds"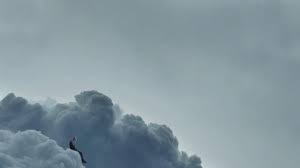 Ear-popping drums, medieval synths, and cathedral-like melodies. That's what you get from Christian rapper NF's new mixtape Clouds.
Nathan Feuerstein, or better off known as NF, released his first mixtape of his career on March 26, 2021. After putting out five albums and two EPs in the last 11 years, the Christian hip-hop artist dropped Clouds because he "wanted to put out a short project while working on his next full length album."
On this project, NF recounts his success while giving listeners relatable tracks about self doubt, fake friends, and mental health. Clouds, like many of past projects, dives deep into the waters of depression, failure, and death.
NF dominates when it comes to delivering powerful messages in a sonically reflective manner. The third track "Just Like You" directly tells the listener that "there's millions of us just like you." He assures people know that whatever the listener is going through, they're never alone.
In the fourth track "Story," Nate narrates a suspenseful story about a gas station robbery that comes full circle on his life. He uses a deep-pitched grand piano and horror-filled violins to create a movie for your ears. This track is based on a true story that his best friend went through roughly a year before its release date. Without question, this is one of the most musically thrilling songs I've ever heard in my life.
"Paid My Dues" explains NF's feelings towards critics bashing his last album The Search. Not only does he cover topics like the obsession over social media attention, but he also responds to the critics who ripped him apart for his last album. He claps back saying, "I'll accept advice if it's not presented ignorantly."
The best part of this track is the extremely high energy and ever-changing cadence of his rapping. He flows from one pocket to another effortlessly leaving listeners on their toes.
The album title "Clouds" is very creative and intuitive. It is NF's way of saying all the wishes and topics talked about on the project are imaginary. The album cover also depicts Nate sitting on the clouds which represents that these wishes of his aren't actually true. This album title and album cover give a sense of sadness and yearning for his dreams to become reality.
Unfortunately, Clouds does not have an overarching storyline to it, Sure, it's only a short mixtape but each track on the project seemed distant from each other. It doesn't feel like any of the tracks blend or intertwine at all in terms of storyline, theme, or instrumental.
NF also strays away from his Christian side of music that he is so well known for. He has won multiple awards in Christian categories at music award shows. That being said, it seems he doesn't want to be categorized in one specific genre.
This mixtape is for anybody who liked meaningful and thought provoking hip hop music. Clouds gives listeners a thrilling listening experience and gives hip hop fans a more meaningful project that many of them aren't used to. I'd give this project a 7.1/10.