Baseball Team Pummels Fenwick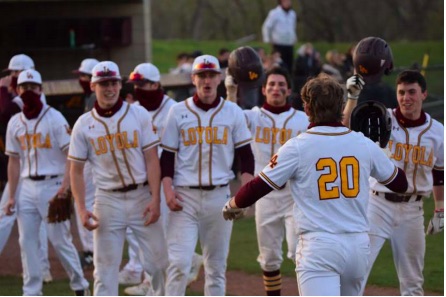 Saturday, May 3, was a day meant for baseball.
Temperatures were in the 70's and the sun was shining brightly. The winds were relatively strong and the field was in perfect condition. Crowds were small, but the energy for a Saturday morning game was still substantial. All of these factors, plus an excellent performance from the Ramblers, resulted in a 15-0 pummeling of the Fenwick Friars.
Led by senior starting pitcher Noah Klein, who allowed three hits and zero runs over
three and a third innings, the Ramblers hit the ground running. Klein has a repertoire of pitches, with his best pitch being a 90 mph fastball. Klein struck out six Friar batters in his outing. Klein also blasted a three-run home run in the third inning to further propel Loyola's offense. As of now, Klein will be attending Creighton University.
After Klein was removed from the game, junior Jonathan Tomasiello went the rest of the way, shutting out the Friars.
There were plenty of notable performers on offense, such as senior right fielder Charley Radtke. Radtke had a single, two walks, and an RBI, working the Friar pitchers all day. Seeenior outfielder Edward Mahoney said, "Radtke is one of the best hitters on our team due to his patient approach. As our leadoff hitter, he sets the tone for each game right away. A great teammate and a great player  who does the little things right."
Another strong performance came from junior Mikey Regan. Regan, who is also a running back for the football team, had a double and a walk. Regan also scored two runs.
Mahoney also spoke highly of Regan, saying "he is a great teammate who is extremely talented. He's just a very solid baseball player." Regan will be a key player to watch as this baseball season continues.
The third inning for the Ramblers was the highest scoring inning of the year. A total of ten runs were scored in the inning, seemingly ending the game early. Key players behind this offensive explosion were Mahoney, Regan, Klein, Radtke, Roger Simon, Brendan Cohn, and JP Nelson.
A costly Friar error also aided Loyola. Fenwick pitcher Corrigat lasted two and a third innings, allowing two hits and nine runs while striking out six.
Senior pitcher Brock Graf, who is continuing his baseball career at IMG Academy, spoke highly of his offense. "We played so well because our at-bats were phenomenal. We took our walks and had timely hitting when we needed it most." Graf will take the mound for the Ramblers this week.
Head coach Chris Ackels spoke charismatically to his team after the win, saying that he was
excited and proud of the team for their effort, but that there is still more work to be done.
Ackels then went to Twitter after the game, saying that it was a "GREAT day on the hill! Three sports at 11:00. Three W's! Great day to be a Rambler."
It was, indeed, a great day to be a Loyola Rambler.