The Forgotten Stories of Nephi, Utah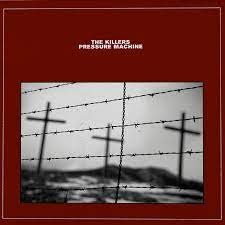 The iconic rock band The Killers, known for alternative rock classics like "When You Were Young" and "Mr. Brightside," released their seventh studio LP on August 13 of this year.
Pressure Machine takes a deep dive into the lost stories of the people of Nephi, Utah. Filled with audio samples from the townspeople, the album gives a realistic and honest perspective on a small American Western town. 
A common theme throughout this collection of bittersweet songs is finding happiness and purpose, whether it be through a god, sinning, others, or the town itself, and Pressure Machine relies on the voices of the town of Nephi to get these themes across. The samples of the people who live in Nephi add an incredible amount of depth to the record. Simply hearing their stories and memories and what these people go through in their day-to-day lives immerses the listener tenfold.
The opening track, "West Hills," is one of the strongest tracks on this record. Its deep lyrics and dark audio samples set the tone for a large portion of the record. One of the first audio samples heard in this song is from a woman, who eerily states: "We'll be here forever."
Prior to this quote, another audio sample mentions racial injustice and "people not fitting in" to the rest of the town. These two samples show the two different sides of Nephi, the bright and the dark. 
This record is charged with the lyrical and musical influences of rock-and-roll legend Bruce Springsteen, and it's no surprise. Earlier this year, The Killers released a single titled "Dustland" which featured Bruce Springsteen for a large part of the song. His musical and lyrical influence is especially noticeable in tracks like "Quiet Town," "Terrible Thing," and "Cody," which all sound like B-sides or demos off of a Springsteen compilation. "Quiet Town" is reminiscent of an additional song off of Springsteen's 1982 record, Nebraska.
Drug abuse is a huge issue in Nephi, and songs like "West Hills" and "In Another Life" make that clear. These songs comment on the growing problem of drug abuse in schools, and how rampant addiction can be for young people.
"There's a lot of opioids going around, it makes you feel pretty damn good. After a few hours, you gotta take more" is a line from "In Another Life" that serves as a reminder of how addicting drugs can be and how reliant an individual can be toward them. Overall, these two songs are great, even though the topic of drug abuse can get a bit repetitious.
The record concludes with the song "The Getting By," which gives the listener a lighter and more upbeat tune. The lyrics are hopeful, and the violins that play along frontman Brandon Flowers are beautiful. When the violins fade, an audio clip of a train passing plays out the rest of the record. This is a direct reference to one of the earlier songs on the album, "Quiet Town," which mentions trains as a way out of Nephi. 
Pressure Machine does not have a weak song. It definitely does not lack in variety, containing songs from the genres of folk rock, hard rock, acoustic rock, 80's indie pop, and, in some cases, the gorgeous instrumentation of classical music. Anyone can have a completely different interpretation of this album, and that makes it so much better as a whole. It excels in its lyrics, music, and drive to tell the stories of the lost town of Nephi. 
The album is available to listen on Spotify, Deezer, Apple Music, and Pandora. 
Score: 9/10