No More Snow Days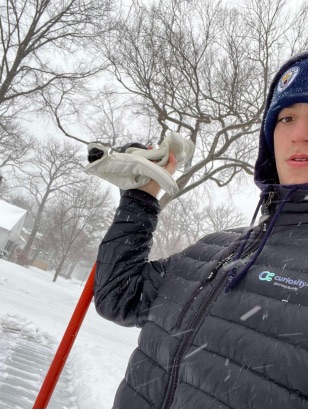 There aren't many more satisfying feelings than waking up to the news that school has been canceled. Moreover, waking up knowing that the last day of the week has been called off, starting a three-day weekend, and allowing stress to leave your body one day sooner than anticipated.
But school was still in session for Loyola Academy students last Friday even with snowfall amounting to just under one foot.
Students at Loyola Academy were given the news that there was a snow day that Friday morning. However, Mr. Heintz, the principal, sent out an email to the Loyola Community at approximately 5:45 AM telling students that classes were still mandatory and were supposed to be attended virtually.
Many students, already having to deal with virtual learning in two separate school years, were not thrilled to hear the news that Zoom and eLearning were making a comeback. Joey Vehovsky, Loyola Academy junior, made it very clear on his opinions toward eLearning Snow Days. "I'd way rather have it be skipped," Joey said. H would rather go into school versus attending virtually because, "… in person days are way more effective. [Students] skip the zooms and can't focus, so it's like the virtual day doesn't even count."
Unfortunately for the part of the student body who find eLearning difficult, the only other option is to cancel school completely which would make some teachers' lives exponentially more difficult. In the current 2021-2022 school year, each class period is 50 minutes long, which many argue, is not enough.
Whether or not faculty members like or dislike eLearning is irrelevant to whether the school holds classes or not. For most teachers, it comes down to how on schedule they are with the curriculum.
"I hate the 50 minute classes, they're way too short. We're so rushed, there's not much time for practice… We just can't skip over a chapter or two," Mrs. O'Sullivan says when asked about keeping up with the curriculum and affording to miss some class time.
Although she shares most students' sentiments, Mrs. O'Sullivan says all classes in the same department need to stay on schedule so that every student is equally prepared for the final exam. "I would rather have a conventional snow day, where there was no school, or be in school… but I think this is the worst of both worlds," she followed.
On a more positive note, there are some happy instances that come from eLearning. Although some teachers struggle to come up with something engaging for the virtual students, others are given a larger field in which they can teach. Joey Vehovsky had a pleasant experience in regards to an assignment with his Honors Government and Political Science teacher. His teacher gave an extra credit opportunity as long as there was proof that the students shoveled a neighbor's house, along with completing an assignment that related to the unit.
"I really appreciated how the teacher incorporated the snow day into our actual unit… [the assignment] was really applicable to me, and I really enjoyed it," Joey says.
Mary Doran, Loyola junior, shared similar opinions to that of Mrs. O'sullivan and Joey Vehovsky. However, Mary actually brought up what she thinks could be a compromise with the school. "I mean, nobody is in love with eLearning. Teachers are forced to change their plan and teach in a different format while students have to avoid distractions all day," Mary says. "I feel like snow days should be days off that should then be added to the end of the school year. Students would have a chance to catch up on work on their days off, teachers would be able to grade, and kids would be able to benefit from in-person classes," she continued.
Loyola went through something last Friday that the school had never experienced. Loyola's community will have to learn to manage these "fake" snow days in the future, and students might just have to come to terms with the fact that snow days might not be such a good thing after all.