Wallowing in Wallows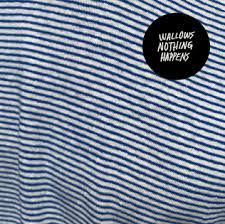 In their first full-length album, the rising indie band Wallows gives us a taste of their upbeat and vibrant alternative music. Nothing Happens is all about staying forever-young. 
Written and produced by all members of the band, Dylan Minnette, Braeden Lemasters, and Cole Preston, the 40 minute long album has us feeling many different ways. ranked number eight on Billboard's Top Alternative Album. 
The album kicks off with "Only Friend,"  asking, "who feels alone in the world?" This amazing guitar riff filled song shines a light on adolescents finding their place in the world. 
As "Treacherous Doctor" begins, we hear about love in teens and life in your twenties with having nothing to do. Wallows gives us a colorful picture of awkward personal experiences and the feeling of being stuck.
Their most popular song on the album is "Are You Bored Yet," featuring young singer Clairo. It beautifully discusses the feeling of being off in a relationship and not knowing what to do. 
Lead singer Minnette starts the song with, "when we get old will we regret this?" referring to a young love breakup and not knowing if it will work or not. Adolescence is confusing and teens feel lost in their lives a lot. With so much to learn, the question brushes over the possibilities of first love lasting forever. 
With phenomenal vocals, Clairo sends chills down our spine with a few light-hearted verses, asking if first love is even worth it. The track is kept short and sweet, overall keeping a warm and fun vibe. 
Then, we hit track number five, which almost seems like a joke. "Scrawny" is introduced, and at first, the rosy drums seem to give high hopes. Although the electric tunes make you want to get up and dance, I am sure you will not find too much artistic talent in the lyrics, "scrawny motherf***** with a cool hairstyle." 
"Ice Cold Pool" reflects on what it is like to be young and innocent. With a breathtaking guitar solo by Braeden Lemasters, we look through a window of not wanting to escape our innocence. 
The finale, "Remember When," "I'm Full," and "Do Not Wait," closes up the album talking about a lost love with deep melodies. As "I'm Full" flows into the final song, it gives a feeling of nostalgia. 
The slow beats of "Do Not Wait" make us feel emotional as we reflect on our younger years. Minnette sings about parents separating and dad's trash bags filled with his things floating in the pool, forcing us to reminisce on our own family lives. 
The album comes in a full circle, ending with the exact guitar riff that the first song, "Only Friend," started with. 
It is a perfect album for driving with your friends and just rolling the windows down. Wallows implements a perfect album with upbeat tunes and stellar vocals. 
Nothing Happens is a rollercoaster of emotions, showing both cheerful and sorrowful feelings. Altogether, it's a great coming of age story shown through music. With one song's outro leading into the next song's intro, this album is a never ending nostalgic car ride from your high school years.