The Draft Heard Around the World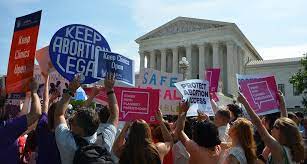 When the current 6-3 conservative majority in the Supreme Court emerged, many were worried about the future of certain cases like Roe v. Wade. Now it seems their fears have come true.
On Monday, May 2, Politico dropped a bombshell report that a leaked Supreme Court draft shows a majority opinion to overturn Roe v. Wade, and therefore the federal right to abortion. The leak is unprecedented considering there has been no previous Supreme Court document leak.
The draft was written by conservative Justice Samuel Alito and was first given to the justices on February 10. While it was originally not officially confirmed as authentic, the Supreme Court later announced its authenticity, but confirmed it was not the final decision of the court.
In the draft, Alito argued against Roe's decision that abortion is protected by the Constitution under the "right to privacy." Alito wrote, "The inescapable conclusion is that a right to abortion is not deeply rooted in the Nation's history and traditions."
Roe v. Wade was under review because of an attempted abortion ban in Mississippi, where most abortions would be banned after 15 weeks of pregnancy.
According to someone close to the court, other conservative justices (Clarence Thomas, Neil Gorsuch, Amy Coney Barrett, and Brett Kavanaugh) have sided with Alito in overruling federal abortion.
If the decision to overrule Roe v. Wade is made final, then the power to allow or restrict abortion is left up to the states. Already states like Mississippi and Texas have passed laws that restrict abortion up to a certain point (in Texas as soon as six weeks).
As many as two dozen states are prepared to pass abortion bans, with many states having laws ready. As stated in NBC News, "The Center for Reproductive Rights data shows 13 states across the South and Intermountain West have so-called trigger laws, or bans on abortion that only go into effect if Roe is struck down."
However, liberal states like California and Illinois are gearing up to expand access to abortion clinics. For example, clinics are training more staff and are providing more travel assistance.
Across America there has been an outcry of disapproval of the majority opinion in the court with many arguing overruling Roe v. Wade is taking away the ability to choose what someone can or cannot do with their own body.
Senator Elizabeth Warren was one outraged at the draft, saying to her supporters, "I am angry because an extremist United States Supreme Court thinks they can impose their extremist views on all of the women of this country, and they are wrong."
Immediately after the draft was leaked, protestors gathered outside the Supreme Court. It was also reported that there were many verbal clashes between pro-life and pro-choice groups.
There have been calls on Congress to act to make a federal abortion law, however due to the current make-up of Congress, it seems unlikely. Because of the filibuster in the Senate, and two Democratic Senators' (Joe Manchin and Kyrsten Sinema) unwillingness to get rid of the practice, no bill is likely to make it to President Biden's desk.
Although regardless of the filibuster it seems that Democrats will hold a vote on a federal abortion law. Senate Majority Leader Chuck Schumer announced, "Now that the Court is poised to strike down Roe, it is my intention for the Senate to hold a vote on legislation to codify the right to an abortion in law."
For now, abortion remains legal across the United States. The fate of Roe v. Wade will likely be decided in the upcoming months, before the court's summer recess in late June. Americans will have to wait and see how this case plays out, and if any many changes will be implemented.