Revisiting Velvet Goldmine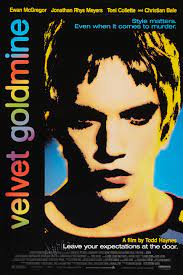 Velvet Goldmine was released on October 26, 1998 to mixed acclaim. The musical drama, starring Christian Bale, Ewan McGregor, and Jonathan Rhys Meyes, was ultimately awarded a BAFTA for best costume design but lost its other nominations, such as a nomination for Palme d'Or at Cannes.
Despite the small technical acclaim Velvet Goldmine received, it now has cult status, with legions of younger viewers flocking to this movie for its incredible soundtrack, storytelling, and reflection into the past.
The soundtrack of Velvet Goldmine manages to encapsulate the Bowie-filled landscape of the 1970s without actually including mention or songs by David Bowie. 
Interestingly, Bowie refused to allow his music to be used in the film, mostly in part to the film's narrative surrounding Brian Slade's (David Bowie) romantic involvement with Curt Wilde (Iggy Pop). 
The similarities between Slade and Bowie are nevertheless abundant, with the film's title being a direct reference to Bowie's song of the same title, "Velvet Goldmine." The title screen states, "Although what you are about to see is a work of fiction, it should nevertheless be played at maximum volume." This is a clear reference to Bowie's instructions on the back of Ziggy Stardust, which reads, "to be played at maximum volume."
Velvet Goldmine is told in a nonlinear format, with Arthur Stuart (Christian Bale) investigating the mysterious disappearance of Brian Slade after he faked his death on stage. Stuart is shown to have been very involved in the Glam Rock movement of the 1970s, where Slade and his alter ego, Maxwell Demon, were most prevalent. Ten years later, Stuart is tasked with finding out where Slade is and how his life has changed after the backlash he received from the hoax. Stuart interviews people connected with Slade's life and rise to fame, who reveal his true identity, beyond the one fed to fans. 
Told through flashbacks and interviews Stuart has with people who were closest to him, the story behind the legend of Maxwell Demon is revealed, along with the implications his treatment by the media reveals around 1970s Britain and America. 
From popstars such as Jack Fairy, Curt Wilde, and Brian Slade, Velvet Goldmine examines Britain's treatment of queer celebrities in the 1970s, along with the effect that sudden fame can have on ones psyche.
The costumes are just what one would expect from a glam rock era movie, with platform shows, glitter makeup, and jumpsuits. The inclusion of such costumes allow for viewers to easily distinguish who is involved with the Glam Rock revolution, and who is merely observing it in society.
The soundtrack includes both original works and famous songs from the 1970s, all credited to Slade, Fairy, and Wilde, and presented as music videos in addition to inclusion in the background. 
Celebrating its twenty-fourth anniversary on Wednesday, Velvet Goldmine is the perfect film for anyone interested in Glam Rock and the history of musical rebellions in Britain.