Dungeons & Dragons: Honor Among Thieves Rolls a Nat 20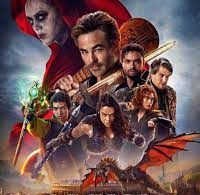 Nerds rejoice! To the surprise of the majority of the internet, including myself, Dungeons & Dragons: Honor Among Thieves is a great movie. 
Directed by John Francis Daley and Jonathan Goldstein, the movie stars Chris Pine, Michelle Rodriguez, Justice Smith, and Sophia Lillis, with notable appearances by Hugh Grant, Regé-Jean Page, and Daisy Head. The directors also wrote the movie with Michael Gilio. 
The movie opens with Edgin (Chris Pine) and Holga (Michelle Rodriguez) in prison for a heist gone wrong. After a successful escape, they visit Forge (Hugh Grant) to retrieve their treasure from the heist and Edgin's daughter. After Forge refuses, Edgin decides that he and Holga will steal their riches back. After meeting up with their old friend, a sorcerer named Simon (Justice Smith) and Simon's friend Doric (Sophia Lillis), the ragtag group prepares to steal back the rewards from their last heist. 
Dungeons and Dragons: Honor Among Thieves is an absolute joy to watch. Unlike other popular fantasy media like Game of Thrones, Honor Among Thieves is very family-friendly. It has the same vibe as MARVEL's Guardians of the Galaxy. 
The movie is a bit stereotypical and cliché, but that isn't a bad thing. It actually works really well. I found myself happy that I was able to predict what was going to happen. It felt like I was a part of the adventure the characters were going on. 
All of the characters are very unique and well-rounded. Each of them has a tragic backstory, but the way each character handles their backstory is really interesting. None of them are perfect, but the ones that are meant to be liked are very likable. 
I loved how the villains were truly villains. There's been an oversaturation of anti-heroes and redeemable villains in recent movies and shows, so it was really refreshing to have truly evil villains. Both of the villains are terrifying in their own way, but both of them gave me goosebumps. Daisy Head's character, Sofina, is a cold, brooding woman and her character design is absolutely terrifying. As for the other villain, you'll have to see the movie for yourself. But this movie isn't all tragic backstories and evil villains. 
There are plenty of jokes, for both the casual moviegoer and the hardcore Dungeons & Dragons fan. I only started playing DnD this year, but the movie does a good job of giving context for the jokes that require more knowledge of DnD lore. There weren't any jokes that left me more lost than laughing. 
Not all of the aforementioned jokes land. There are a few that had me cringing. Xenk, Regé-Jean Page's character, is a bit out of place. He shows up for a little while, helps the main characters, then leaves. I would have liked to see him have a bigger role in the story. 
The writers definitely set up the movie for a sequel, but I am worried we won't see that. Rotten Tomatoes reported that, as of April 3, the movie had only made $71.5 million. While this certainly isn't a failure, it's not great. I would have liked to see less of a cliffhanger so that, if we don't get a sequel, we will still have a nice story. 
Please go see this movie! Not just because I really want a sequel, but because this is a genuinely great movie. It's a wonderfully fun movie with an amazing cast of characters. Everyone will be able to find something to like.