Rambler Defense Blocks a Husky Comeback in an Upset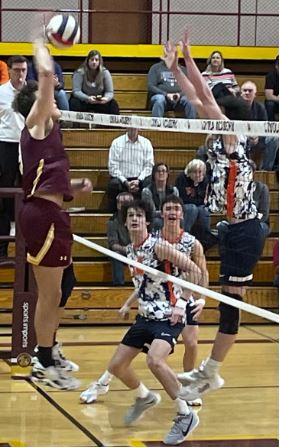 Men's volleyball faced one of their biggest challenges yet Wednesday against the #8 team in the state the Oak Park River Forest Huskies. The Ramblers were hot off a win against the #6 team in the state Brother Rice, which meant a win against the Huskies could lead to Loyola being ranked in the top ten.
The first set started off with much back and forth with neither the Huskies nor Ramblers able to gain a significant lead. Senior Jake Balata said before the game,  "This team has a lot of talent, it's not going to be easy to get momentum."
With the first set deadlocked at 28, OPRF senior Ralph Bennet came up big for the huskies, deflecting junior Ben Trapp's spike for a point and then getting a kill (spike for a point) to secure the set.
After winning the first set 30-28, the Huskies came out hot in the second set gaining a 6 point lead before the Ramblers could even score once. Loyola Head coach Lionel Ebeling called a timeout to try to regain some confidence. 
"We were just making a lot of mistakes out there. I called the timeout to reset our game plan which hadn't changed. Get a stop on defense and look for the open zone for an easy kill," said Coach Ebelin
But easy it wasn't. While the Ramblers were able to pull themselves out of their deficit, the Huskies would not quit leading to another deadlock between the two teams at 28. 
This time it was senior Charlie Gervasio who was the difference for the Ramblers. After a big dig he went immediately on the offensive scoring the Ramblers a huge kill through the blockers to gain the lead. Ben Trapp clinched the second set for the Ramblers with a kill of his own.
With the sets tied 1-1, the third set would decide the game. The Ramblers were rolling early as both Ben Trapp and Jake Balata had 5 kills each in the third set. It was Loyola's defense, however that truly brought them the win. 
OPRF did everything they could to get back into the game, but they were met by Loyola's brick wall of a defense. Junior Jack Lopez had 6 blocks on the Huskies leading Loyola to their 25-19 victory and winning them the game. 
Looking ahead, the Ramblers have a Chicago Catholic League matchup against St. Rita next Tuesday, May 9. They'll see if they can keep their current hot streak alive against the Mustangs.