The Loyola Academy annual senior sunrise successfully celebrated the senior class of 2024 this past Wednesday, October 18. Many senior students gathered on the football field at 6:45 am with bagels, donuts, coffee, and some hot chocolate to celebrate senior year. 
The senior sunrise tradition was actually started during COVID-19 to celebrate the seniors while trying to navigate covid restrictions. An idea arose to have a celebration on the football field instead of inside Loyola's doors in order to try to stop the spread of COVID-19. 
The idea for the senior sunrise was so successful during the covid year, that Loyola Academy has continued on with the senior sunrise tradition annually. 
This year, Student Activities planned an incredible celebration for the seniors. Despite the early hour, many seniors came early to school to experience playing spike ball with their friends, taking photos of the sunrise, and having some breakfast with peers. 
Ms. Krein says, "This year had one of the best turnouts actually… around 300 seniors showed up this year." 
Seniors came for plenty of reasons. From wanting to spend time with friends to just wanting a sunrise selfie, lots of seniors were in attendance. 
Sophia Hayes says, "The sunrise gave me this opportunity to understand what is coming ahead next year and what I will be leaving behind." 
For seniors, this event marks the first of many senior-oriented events throughout the school year. For many, this sunrise represents the fast approaching graduation date, then soon … college. 
Callie Tournillon adds, "It was fun because we all wanted to be there and celebrate our last year together."  
For some of the seniors, the sunrise represents the beginning of the end of high school. Next year, the senior class will be dispersed throughout the country living completely separate lives. 
Ally Tamas shares, "Although it took every ounce of my being to drag myself out of bed… this was an amazing memory that I know I'll look back on. I liked talking with everyone in the morning and socializing with my peers." 
Even though the sunrise was quite early for most, many seniors came to socialize with their friends and peers and to make memories to remember senior year by.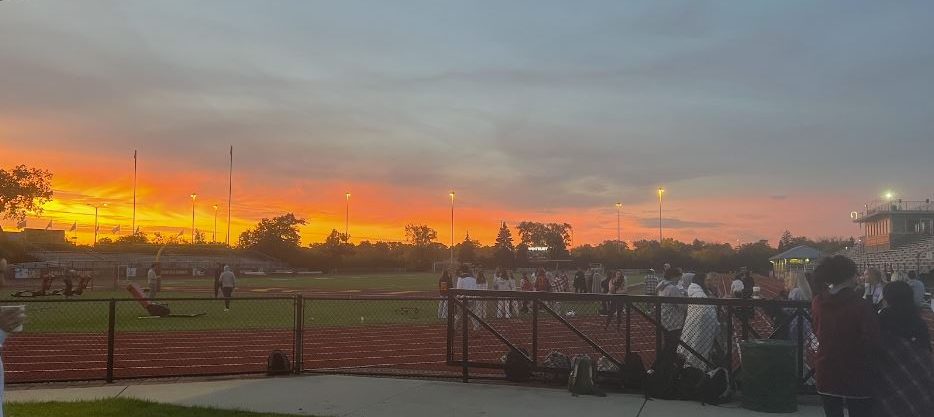 As the sun rose, the senior students dispersed into their first class of the day, remembering the beautiful morning they experienced with their class.
Overall, the Senior Sunrise successfully celebrated the Class of 2024 as they embark on their final year of high school and navigate the new changes soon to come.