Upon entering the newly installed Performing Arts Center, I did not expect to see all the actors on stage, playing little party games before the show began. It was only right before it started that the audience was informed that it was their modern take on what performers would do before their shows.
On Friday, November 10, Romeo and Juliet took the stage by storm. With the theater close to capacity, I was intrigued to see how LA would put their own spin on the classical Shakespearean play.
The story follows the well-known plot of two star crossed lovers and their forbidden pursuit of each other's love. Loyola's rendition gave a modern twist, with present day Romeo and Juliet characters making quick, witty comments at each point in the story.
The featured costumes got my attention repeatedly throughout the performance as each character made their way on and off the stage. The clothes, which draped over each character, not only caught my eye immediately, but captured the time period accurately.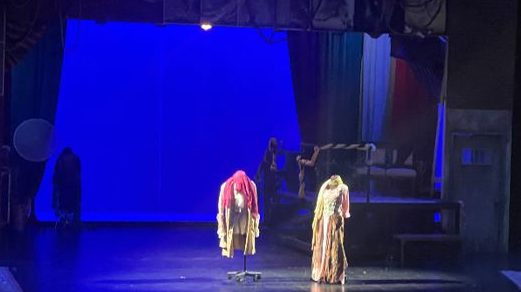 The flowing dress of Juliet, played by Lucy Kirkland – moved swiftly across the stage and shined under the stage lights giving it a subtle glow. The contrast of the colors of the corset and the dress worn by Lady Capulet – played by Ali Gregorio – fit together seamlessly. During the fighting scenes, my eyes would follow the bright, frilly red shirt as Tybalt – played by Gabe Crosswhite – moved about on stage as he skillfully fought the Montagues.
Although there were skillfully decorated sets and coherent costumes, I wish the show did the same with its fighting choreography. According to the stage manager, Cecelia Litgen, in the rehearsals leading up to the show, the actors would be trained specifically to use and care for real swords that would be a part of certain scenes. Being an audience member and watching the fight scenes, I noticed that they were incredibly cautious with how they swung each sword. On one hand, I was glad that they were very careful not to injure anyone, but at the same time, the cautiousness dampened the authenticity.
As they moved across the stage whilst fighting, they would charge at their opposition in preparation to swing, and just as they moved their arms, they would slow down and gently tap their enemy's sword, interrupting the flow of their run. This hindered the performances of each of the fights, giving it less impact on me as I viewed it.
Overall, the thespians did a fantastic job of tying in modern Easter eggs while still keeping the originality of the performance. Despite certain hiccups with the fighting scenes and even certain moments of incoherent monologues, the costumes, set, and acting overall outshined the small, subjective observations of the play.
To those debating to see a Loyola performance in the future, I recommend it highly. Given the new PAC, the thespians have more opportunities to put on greater performances, leaving audiences satisfied with their attendance.