BLM and LA
The Black Lives Matter Movement has been a very prominent issue today. Here at Loyola, one key theme is how important the movement is in the lives of all.
One issue that came up among students was being able to wear BLM masks and hang the BLM flag. Senior, Michael Morales said, "Let us wear masks that have the BLM logo on it." 
Initially, many students had shown up to school wearing masks with the BLM logo on it and were told to take it off and not wear it to school the following day. 
Another student, senior Esuseni Perryman also said, "It does not seem like Loyola is against BLM but it also seems like Loyola does not want to put up the flag. I think that might have to do with other things that the BLM supports or does not support." (However as of now there is a flag).
Principal Heintz, Heintz commented, "We had those conversations with students and I think they were healthy and productive. We allowed students to create buttons and wear those. In terms of issues of masks, we felt like those were matters of dress code and we wouldn't have students portraying anything on the dress code that was different." 
When it comes to the protest art, the administration's view on the art in the piazza were, "great ways to visually represent our support of our students and of the movement," however senior Phoebe Rosa had other opinions on the matter. 
"They could've left it up [the BLM art in the piazza]. Like it was just a moment thing for them and they took it down as soon as they could. Like as if they were embarrassed and they aren't up front about it and it's frustrating." 
However, since this comment was made (November, 2020), there has been more art regarding BLM and Black History Month that has been over the school. 
Talking to the Fine Arts Director, Colleen Aufderheide,  provided more insight on how long art is up around the school and what the Fine Arts program is doing in response to this movement. Mrs. Aufderheide mentioned how the BLM art pieces were up for about 4-5 weeks, which is a change from the typical 3-4 weeks that the art normally displayed for. 
When asked about what she thought the fine arts program was doing well in regards to BLM she said, "The Fine Arts at Loyola has long been a place where students of various backgrounds find community and an opportunity to express themselves. Committed to our students and Loyola's mission, we feel it is our responsibility to ensure that our programs and classes reflect, welcome, and celebrate all students at Loyola." 
She also noted that, "The goal is to ensure equity, diversity and inclusion happen in our curriculum, classes, and programs. This essential process will take time and the Fine Arts Department commits to the hard work ahead so that all students can grow in self-discovery and achieve their creative, expressive potential at Loyola." 
The fine arts classes are unique as it is not a class where you sit and get lectured, take notes, and then get tested. These programs are an expression of each individual, and Mrs. Aufderheide, along with the other fine arts teachers, is trying to make the fine arts program more inclusive and educated.
However, this wasn't the only comment made by Rosa. When asked about the movement itself Rosa said, "I hate the fact that their lives mattering is a political thing. Like that shouldn't be how it is, they should just matter on their own and there shouldn't be people saying, 'Well my life matters, too' when they're just saying their lives also matter." 
When asked his opinion on what he thought Loyola was doing well in regard to the BLM, Principal Heintz said, "I think that we've made it a focus to redouble our efforts around our Jesuit identity and individual value of all students, that people should be known, loved and cared for and respected." 
However when asking junior Gabriel Moreno his opinion on what he thought Loyola was doing well, Moreno said, "They haven't done much besides open up the diversity board and post the dialogues, but there's more to be done." 
Moreno also said, "They could talk about issues over the loudspeaker instead of being shouted out ever so often in classes." Moreno feels that instead of ever so often mentioning BLM, classes and announcements can go more in depth about the topic.
While the students may not see any immediate changes, the administration such as Mrs. Jackson, Mr. Penna, Mr. Nieman as well as Principal Heintz himself have been listening to the students' stories. While some of them have been difficult, especially those posted on true colors, Principal Heintz said that those stories "provided an opportunity for us to correct situations that have not, situations that we don't want to repeat. The administration does have a strong belief that the BLM movement is real. They support the dismantling of systemic racism and have been talking with our teachers about how they can be anti-racist educators. Their goal is to make the school environment inclusive for everyone."
Principal Heintz noted that there are upcoming things that will be done in regards to the Black Lives Movement such as more diversity dialogues. 
While there are many things that the administration is doing in response to the BLM, the students think otherwise. Despite what some may consider as slow changes, Loyola's community can expect to see more things done to improve the school and work towards a more inclusive environment.
About the Contributor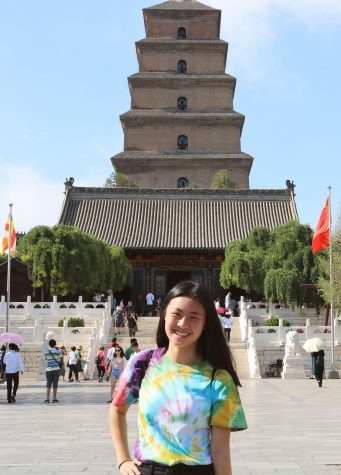 Lily Scott, Editorial Staff
I'm Lily Scott and a current junior. I am serving as a member of the Editorial Staff this year. As well as being in newspaper, I am head student photographer...