Girls Soccer Plays New Trier to Competitive Draw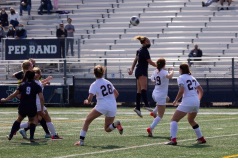 The Loyola Ramblers and New Trier Trevians Girls Varsity Soccer teams played to a gridlocked 1-1 draw on Saturday, April 24, in New Trier Stadium. The game was a much anticipated non-conference matchup between the teams: two of the top teams in the area that share a historic crosstown rivalry.
The game had an explosive start, with Loyola forward Kendall Beil opening the scoring off a pass from Molly Sipe, igniting the Ramblers and fulfilling the team's fast-start philosophy.
"We knew we wanted to come out quickly against New Trier and try to catch them a bit off guard," Beil said. "Molly Sipe played a great ball into the box in the first 90 seconds and all I had to do was put it in the corner."
However, much to Loyola's chagrin, their lead was short-lived. Just three minutes later New Trier midfielder Caroline Finnigan tied the score up, eluding the Loyola defense and goalkeeper Ellie Bradley.
Although there would be no more goals on the afternoon, the game was certainly not short in its action, with both sides engaging in a physical, back and forth battle. Loyola kept up the intensity by aiming to pressure New Trier goalie Wynne Hague, something they have tried to do throughout the season.
"A big focus for us this year is intensity," junior defender Molly Sipe said. "We want to start off strong and continue playing that way for all 80 minutes."
New Trier had their fair share of chances, barraging Loyola goalkeeper Ellie Bradley. Aided by standout freshman Anna Paden, New Trier registered nine shots (six shots on goal) and had many close chances, including a crossbar shot in the first half and an extremely close chance with barely two minutes left in the game.
New Trier racked up the set pieces with ten corners and five free-kicks and use those to threaten Loyola's defense, but could not convert.
Loyola, on the defensive for much of the second half, had some key clears, denying every one of New Trier's set pieces. This had been a focus for the team in the lead-up to the game, as it is historically one of New Trier's strengths.
"We worked in training to tighten up our defensive organization on corner kicks and dead balls," Loyola coach Shannon Hartinger said.
"We are fortunate to have a lot of great aggressive players like Kaitlyn Kurtz and Kendall Beil who are not afraid to get their head in the ball in both (attacking and defending) situations and that has really strengthened our success," Sipe added.
Spurred on by Bradley's five saves and an enthusiastic bench, the Ramblers began to mount an offensive comeback toward's the end of the game, but it did not come to fruition despite standout Grace Ehlert's efforts in the midfield and her narrow chance within the final minute.
Sophomore defender Caroline Southwell went down about halfway into the first half, but the injury appeared to be relatively minor, with Coach Hartinger saying it was a mild hamstring injury and that she hopes she will be able to bp make a controlled return to practice soon.
Coming away with the tie, the Ramblers were proud of their continuous effort but also shared their dissatisfaction with the draw, noting some of their difficulties possessing in transition and that their competitive team would have liked to come away with the win.
With the draw, Loyola moves to 2-1-1 on the season while New Trier is now 3-0-2.
With the early season test behind them, Loyola will look to their first conference matchup of the season, a home game Tuesday against St. Ignatius, before heading to the GBS Quad Invite Tournament the following weekend.
New Trier will also look to bounce back, with games this week against Maine South and Glenbrook North.