Catching Up with Runner Hayes Flanagan
Hang on for a minute...we're trying to find some more stories you might like.
Hayes Flanagan is a sophomore on the Loyola Academy girls cross country team. She is one of the runners moving onto regionals. Hayes says "It's such a cool experience to be a part of such a small team and to run in a big meet together will be exciting."
Q: When did you start running?
A: "I started running at the beginning of this school year."
Q: What is your favorite part about cross country?
A: "I love bonding with the team on runs and pushing each other to work harder."
Q: What's your biggest cross country accomplishment thus far?
A: "I ran number one for Loyola at Palatine this year and set a personal record for myself, which was very rewarding."
Q: What is your best team memory from this season?
A: "We all went to Peoria for a race, and it was really fun to get to know everyone and spend time with each other."
Q: Do you have any pre-meet rituals?
A: "I like to listen to music, and I always drink a propel before I run in a race."
Q: What's your favorite thing to do in your free time?
A: "I love to hang out with my family and friends in my free time, I also love to cook!"
Q: If you could have any superpower, which would you pick?
A: "I would love to fly because I could get everywhere faster and more efficiently. I would never be late!"
Q: If you won the lottery, what would you first buy?
A: "I would buy a boat so that I could go on the lake whenever I felt like it."
Q: What's your favorite show to binge watch on Netflix?
A: "I am obsessed with Michael Scott, so probably The Office."
Q: Where is your dream vacation destination?
A: "I would love to go to Thailand and ride an elephant."
About the Writer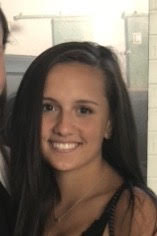 Gianna Lapasso, Editorial Staff
Hi! My name is Gianna Lapasso, I'm a senior serving on the Editorial Staff. I'm mainly interested in reporting on Sports and School News.